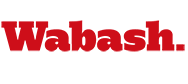 Our Country's Good Runs Through Saturday
by Jim Amidon

April 19, 2011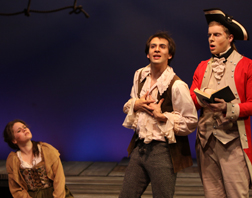 The Wabash College Theater Department closes its 2010-2011 performance season with the award-winning play
Our Country's Good
, which runs through Saturday at Ball Theater in the Fine Arts Center. Curtain is at 8:00 p.m. each evening and free tickets can be reserved at the box office.
The year is 1789 and a British Royal Marines ship — full of convicted prisoners — has just docked in Australia's Botany Bay where a penal colony has been established. To celebrate the British king's birthday, 2nd Lieutenant Ralph Clark (played by Gus McKinney) decides to stage a play — the first ever in the country — using the prisoners as actors, even though most can't read or write.
Written in 1988 by Timberlake Wertenbaker, the play discusses themes ranging from the Georgian judicial system to sexuality to class differences, using language so powerful that it demonstrates theater as a humanizing force.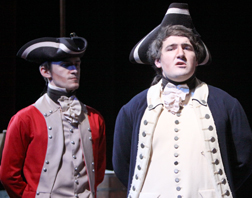 "
Our Country's Good
is about passion, convicts, comedy, and the transformative power of theater," said Professor Dwight Watson, who is directing the production. "In the play within a play, convicts are turned into actors, some good and some not so good, but all performing with a sense of urgency. After all, it is either the hangman's noose or the stage."
The story concerns a group of Royal Marines and convicts who put on a production of The Recruiting Officer. The play is being produced amid food shortages and barbaric punishments — all with the notion that theater can be a very civil, even redemptive art form.
The hangman — himself a convict — has been recruited for a role, and the play's leading lady (wrongfully accused of stealing) is to be hanged in "real life." As the play is being rehearsed, the hangman measures her for a noose.
Clarke Remmers stars as Captain Arthur Phillip, who has been dragged out of retirement to lead the first fleet to Australia. He is an intellectual who feels some compassion for the prisoners, especially Liz Morden (played by Jamie Ritchie-Watson).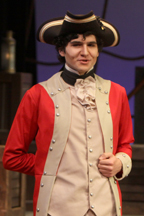 Jordan Plohr has the role of Major Robbie Ross, who is an angry, bitter commander who intimidates the convicts and hates the very idea that a play is being produced. Captain Watkin Tench shares that view, and Luke Robbins plays the role to perfection as he shouts down the prisoners and in his heart believes none are capable of redemption.
Almost all of the actors in Our Country's Good perform in more than one role — men playing women, women playing men, officers and convicts alike.
Tyler Griffin stars as the judge at Botany Bay, Captain David Collins, and Raynor Mendoza plays Reverend Johnson. In the play, Mendoza plays the character Wisehammer.
"Our Country's Good asks questions about identity and immigration," said Professor Watson. "As Wisehammer remarks in the play, 'Country can mean opposite things. It renews you with trees and grass, you go rest in the country, or it crushes you with power: you die for your country, your country doesn't want you, and you're thrown out of your country.'"
Also starring in Wabash's production are students Chris McCloskey, Alex Avtgis, Tyler Whitford, and Josué Gutiérrez Guerra. Joining the Wabash students in addition to Jamie Ritchie Watson are Abigail Gillan (last seen in A Lie of the Mind), Terry Swift, and Rebecca Janvrin, a DePauw student last seen in Terra Nova.
"Our rehearsals have been enjoyable with an energetic, talented cast and dedicated crew," added Watson. "We look forward to entertaining our audience with this colorful, bawdy, and lively production."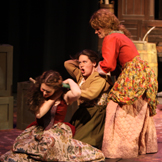 Our Country's Good was first staged at London's Royal Court Theatre in September 1988, winning the Laurence Olivier Award and the BBC's Play of the Year. It opened on Broadway in 1991 and was nominated for six Tony Awards and received the New York Drama Critics' Circle Award for Best Foreign Play.
Although the spirit of the play is universal, it contains language more suited to an adult audience.
Our Country's Good performed by Wabash College Theater and directed by Dwight Watson. Starring: Gus McKinney (2nd Lieutenant Ralph Clark, RM), Clarke Remmers (Captain Arthur Phillip, RN), Tyler Griffin (Captain David Collins, RM / Ceasar), Luke Robbins (Captain Watkin Tench, RM / Ketch Freeman), Jordan Plohr (Major Robbie Ross, RM /Arscott), Chris McCloskey (Captain Campbell, RM / Midshipman Harry Brewer, RN), Jamie Ritchie-Watson (Lieutenant Will Dawes, RM / Liz Morden), Abigail Gillan (2nd Lieutenant William Faddy, RM / Dabby Bryant), Josué Gutiérrez Guerra (Duckling Smith/ Aborigine), Raynor Mendoza (Reverend Johnson / Wisehammer), Rebecca Janvrin (Midshipman / Mary Brenham), Terry Swift (Midshipman / Meg Long), Alexander Avtgis (Female Convict / Sideway), and Tyler Whitford (Convict / Lieutenant George Johnston).