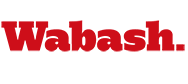 Harbaugh to Premiere Master's Film
by Jim Amidon

April 18, 2011

Russ Harbaugh '06 will return to the Wabash campus on Tuesday, April 19 to premiere his new film, Rolling on the Floor Laughing. The screening is free and open to the public, and will be held in Hays Hall, room 104.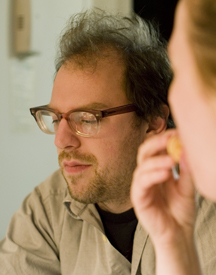 Rolling on the Floor Laughing
represents Harbaugh's master's degree thesis project at Columbia University. He will screen the film later this week at DePauw University before its New York City debut next week at the Columbia University Film Festival.
As an undergraduate, Harbaugh earned fame as the quarterback of Wabash's last undefeated football team. The 2005 squad, which he led, won the North Coast Conference title and advanced to the second round of the NCAA Playoffs. Harbaugh was honored as the NCAC's Offensive Player of the Year and received All-America honors.
He also made a pair of documentary films while a student at Wabash. The soft-spoken English major turned heads with his videos, Beside Myself (2005) and Thy Loyal Sons (2006), which ignited conversation and debate about the very essence of Wabash — masculinity, identity, and relationships.
The films earned Harbaugh the Phi Beta Kappa Prize in his senior year, and helped him gain acceptance in a master's degree program in film at Columbia University.
Now, nearly five years later, he has completed his education and is proud to premier his film at his alma mater.
"We shot the film in Indiana, in the home where I grew up, from a script that began merely as a conversation between a loving mother (mine) and her curious, needling son (me)," said Harbaugh. "It's a project inspired by films with modern, revisionist instincts toward autobiography — films like Maurice Pialat's We Will Not Grow Old Together — films that wrestle with reality while abiding the structures of fiction."
Harbaugh gives a brief description of his new film: "Rolling on the Floor Laughing is the story of a love-triangle between a middle-aged widow, a new lover in from out of town, and the woman's grown sons with whom she shares a candid, sometimes unsettling intimacy. The story takes place over the course of a birthday weekend, the night before and the day of a party."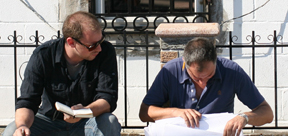 Harbaugh has excelled in his graduate work at Columbia. He earned honors distinction in both screenwriting and directing, and had a celebrated apprenticeship under writer/director Eric Mendelsohn (pictured with Russ). Harbaugh worked with Mendelsohn on the film
3 Backyards
, which won the directing prize at the Sundance Film Festival.
"It's been a startling education, and has shown me the kind of personal and profound art that can be created when a group of interested friends and family and friends of friends and friends of family decide that they want to help," Harbaugh said.
During his junior year at Wabash, Harbaugh explored Wabash's history as a college for men and its many coeducation studies in Beside Myself. The 30-minute film also served as a metaphor for Harbaugh, who struggled through a difficult junior football season and was trying to work through his relationship with his twin brother, Barry.
A standing-room-only crowd of over 300 turned out for the film's screening in Salter Hall.
A year later — and following his record-shattering senior football season — he produced another film, Thy Loyal Sons, which followed three Wabash students in their daily routines at the College. That film examined issues of labels and the compartmentalization of Wabash. Harbaugh told the stories of an African American football player, a fraternity man going through Sphinx Club rush, and an openly gay theater major.