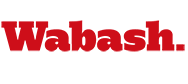 Author Recounts Murder-Suicide on Kalamazoo Campus
by John Dykstra '13

April 15, 2011

The sound of shotgun blasts rang Oct. 18, 1999, through the halls of a dorm at Kalamazoo College. After opening the door of room 201, a campus security officer immediately closed the door. He never took his hand off the door knob.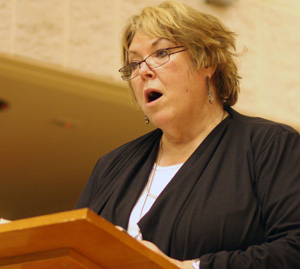 Professor of English at Kalamazoo College Gail Griffin read selections from her book
The Events of October: A Murder-Suicide at a Small Campus
Thursday evening in Korb Classroom. Griffin's book discusses the aftermath of a murder-suicide by student Neenef Odah. He killed his ex-girlfriend Maggie Wardle, and then turned the gun on himself.
"With Kalamazoo College being such a small school like Wabash, you can probably identify that what came after that night was a series of aftershock to our campus that lasted over a year," Griffin said. "It was known through various perspectives and many different ways. I went into this project trying to track these things and see what happens when a small campus community has exploded internally through an unimaginable act of violence."
Neenef Odah's family immigrated to America for higher education, Griffin said. The pressure his father placed on Neenef was immense. By not living up to his father's expectations academically, Neenef contemplated suicide according to some of his friends. His father discouraged him from dating women, especially white women. After a failed relationship with Wardle, a white woman, he took both of their lives.
Professor of English Dr. Warren Rosenberg provided an insight to Griffin's work in terms of gender and culture.
"She has a very powerful chapter towards the end where she looks at statistics and lots of other cases," Rosenberg said. "What that shows is that this is not an aberration. The idea is to show that there is a pattern. In South America, a man who walks into his home and sees a man with his wife has the right to kill the man his wife is with. So, Griffin not only explores gender, but cultural differences as well."
Mack O'Shaughnessy '11 complimented Griffin's research. Griffin interviewed Wardle's family as well as several students and friends of Odah and Wardle.

"I could not imagine going and speaking to this family who lost their child," O'Shaughnessy said. "To gain access to that private information really says a lot about the family who wants to help tell this girl's story. They put a lot of trust into Griffin and apparently she has earned it."
Dr. Rosenberg said Griffin had to be cautious when writing her book. He said friends of Odah protested because Odah was not mentioned equally in the story. Odah's parents never responded to Griffin's request for an interview.
"She is dealing with people who are traumatized by this event," Rosenberg said. "She is also dealing with people who have different perspectives – some who were good friends of the guy and some who were good friends of the girl. She had to be cautious when writing this work because of the various perspectives."
James Kennelly '12 appreciated Griffin's writing style because Griffin tells the story and allows the reader to find their own solution to the murder-suicide.
"I really think that is the focus of her talk – on just capturing the narrative and not trying to solve it or fix it, just to write the story and pass it on," Kennelly said. "She is not trying to provide a solution; she is providing a story that people who have had a connection can find a solution. She preserves the story and makes sure it is not forgotten."
Griffin ended her reading on a chapter that discusses her imagining that Wardle survived or was saved, though the story is set in history.
"This story cannot be rewritten, but for a moment it's like those dreams are so real that you cannot shake them off," Griffin said. "The imagining feels almost strong enough to reach back in time and snatch her to freedom."