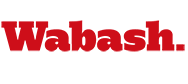 Holm Blasts Wabash To Series Sweep of DePauw
by Brent Harris

April 13, 2011

John Holm muscled a home run over the left field fence as part of a three RBI performance in Wednesday night's 12-5 win by Wabash over DePauw. The Little Giants swept the two-game series against the Tiger baseball team after posting a 7-5 victory in Greencastle earlier this year.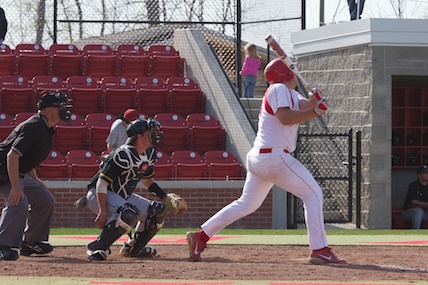 Holm's home run was his seventh of the season and 24th of his career, placing him one home run shy of tying Matt Dodaro's all-time record of 25 long balls. Holm (left) passed Dodaro as the all-time leader in RBI, picking up his 117th career RBI. The junior first baseman nearly hit for the cycle against DePauw, adding a single and double to his totals for the day.
The victory completed the first series sweep for the Little Giants since winning two games from DePauw in 1998 by scores of 6-2 and 6-5.
Wabash jumped out to a 2-0 lead in the first inning off a two-run double by Montana Timmons to score Chris Deig and Holm. After DePauw rallied for a run in the third, the Little Giants answered with four runs in the bottom half of the inning. John Pennington led off with a single, then advanced to second on a wild pitch before scoring on Holm's double. After a Timmons single, Tanner Coggins brought two runs home with a double off the top of the left field fence. Coggins scored two batters later when Joe Johnson ripped a triple to right center.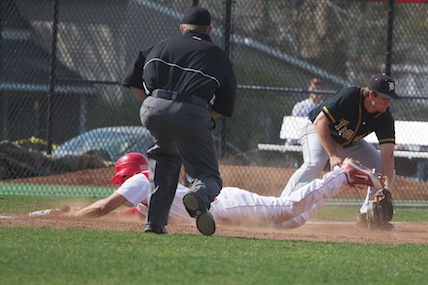 The Little Giants' 6-1 lead was short lived as DePauw (12-18) put four runs on the scoreboard at Wabash Ballpark in the top half of the fourth. Holm's solo homer increased the margin to two runs before he added an RBI single in the sixth. PJ Tyson scored Holm from second on an RBI single to put Wabash in front 9-5. Deig added an RBI double in the seventh, while Trey Fankhauser's two-run single in the eighth completed the scoring.
Holm and Deig each finished with three hits, while Coggins added two to help Wabash outhit DePauw 18 to 8. Timmons, Coggins, and Fankhauser each finished with two RBI.
Brian Van Duyn was credited with the win in a game that Wabash planned to use all four regular starters throughout the nine-inning contest. The senior worked three innings, allowing four runs on three hits with a walk and a strikeout. Andrew Swart game up one run in four innings with five hits and two strikeouts. Jeff Soller pitch one inning of scoreless baseball, allowing only one base runner on a walk. Luke Zinsmaster finished the ninth inning by striking out all three DePauw batters.
Wabash posted wins in football, basketball, and both baseball games this academic calendar year, marking the first time since the 1934-35 season that Little Giant teams could make that claim. Wabash won the Monon Bell for the first time in 1934 with a 7-6 win over DePauw, then followed with 35-30 and 36-25 victories in basketball to claim the title of Indiana State Champions. The Wabash baseball team won all three meetings with DePauw in 1935 by scores of 9-2, 5-3, and 5-4.
This year Wabash posted a 47-0 victory over DePauw in the annual Monon Bell Classic football game and won 57-40 in basketball at Greencastle.
The Little Giants (14-18) complete the home portion of their season this weekend with three games, beginning with a single nine-inning game on Saturday at 1 p.m. against the University of Chicago. An alumni outing and the official dedication of Wabash Ballpark will take place prior to the game against the Maroons. The Little Giants will play Wittenberg University in two seven-inning games on Sunday afternoon beginning at 1 p.m.
Photos - (top left) John Holm powers his seventh home run of the season over the left field fence. Holm tied Matt Dodaro for the all-time home run lead in school history with his 25th long ball and became the school's all-time RBI leader with 117.
(Bottom right) Senior Joe Johnson slides into third with an RBI triple to help Wabash sweep DePauw in baseball. Photos by Tom Runge.