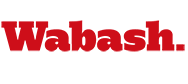 Mockingbird Flies on Wabash Wings
April 13, 2011

A stage adaptation of Harper Lee's best-selling book To Kill a Mockingbird opens Friday at the Vanity Theater in downtown Crawfordsville, and the play features significant Wabash connections.

The Sugar Creek Players' production of To Kill a Mockingbird opens Friday, April 15 and runs for consecutive weekends. Performances are scheduled for 8 p.m. April 15-16 and April 21-23 and there is a 2 p.m. matinee on Sunday, April 17. Tickets can be reserved by phone at 765-362-7077.

The play, performed for the first time in Montgomery County, is directed by Jim Amidon '87, Wabash Director of Public Affairs, and is co-produced by Jerry Bowie '04, who coordinates activities for the Center for Academic Enrichment.
Wabash's Sports Information Director, Brent Harris, designed the lighting for the production; Harris has a long history with the Sugar Creek Players.
"It has been a real joy to work with familiar Wabash colleagues in this new adventure," said Amidon. "Jerry and I worked together as producers for last year's successful production of The Women at the Vanity, and it's been even more fun this time around. And, of course, I've known Brent Harris for nearly 25 years and have worked very closely with him throughout that time. But I had never seen this 'other' side of Brent until I saw him do his magic in the lighting booth."
To Kill a Mockingbird is the story of Atticus Finch, a small town lawyer in Maycomb, Alabama. The year is 1935, and Finch is defending Tom Robinson, who has been accused of raping a white woman. The story is told by Finch's daughter, Jean Louise, who reflects back on the people and events that shaped her life when she was a young girl known as 'Scout.'
"It's a classic story that so many people remember reading in junior high or high school," Amidon said. "But we've tried hard to produce something different. Our goal has been to move beyond nostalgic memories and to inspire conversation on the story's powerful themes, especially 'walking around in another man's skin' and seeing things from someone else's perspective."
Four Wabash students, a professor, the pre-health advisor, Bowie, and the children of Wabash faculty and staff star in the play,
Sophomore DeVan Taylor and freshman Larry Savoy share the role of Tom Robinson, the poor Black sharecropper on trial for a crime he did not commit. (Taylor stars the first weekend and Savoy has the role in the second weekend.)
History Professor Stephen Morillo nails the role of Bob Ewell, the bigoted, angry antagonist who beats his daughter, Mayella (Alli Aldrich), and falsely accuses Robinson of raping her.
Jill Rogers, the College's Pre-Health Advisor, plays the gossipy Miss Stephanie Crawford; Bowie is Reverend Sykes, the minister of the "Negro Church;" freshman Clayton Mikesell plays Boo Radley; and junior Reggie Steele plays a citizen of Maycomb.
Steele, Bowie, Taylor, and Savoy also sing spirituals throughout the play.
Sammie Amidon, the director's daughter, plays Scout Finch, while Trey Rogers plays Dill, the Finch's childhood friend. Trey is the son Jill Rogers and Spanish Professor Dan Rogers.
Steve Charles H'70, the editor of Wabash Magazine, has photographed the production. Pam Sacco's son, Kyle, is part of the stage crew. Henry Swift, son of Archivist Beth Swift, is the light board operator.
"The Wabash connections are terrific," Amidon said. "We started something last year with The Women, which was directed by Beth Swift, that brought together a lot of Wabash people and a number of Vanity Theater veterans. That was a groundbreaking production on many levels, and it's one of the reasons I decided to direct Mockingbird. I was looking to bring town and gown together again — for an important play that deals with serious issues like racism, sexism, and class differences."
James Gross and Andrea Bear from the Wabash Theater Department have also consulted with designers and worked on the production.
Damon Lincourt, a Northwestern University theater graduate, stars as Atticus Finch, while Niki Hutson plays the adult Jean Louise Finch, who narrates the play. Both are experienced actors with numerous Vanity and other theater credits.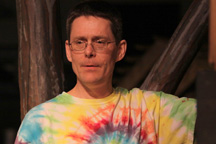 "The thing I'm most proud of with our production is how well the cast has bonded over the last two months," added Amidon. "We have these two 19-year-old Wabash guys, both African American, and night after night at rehearsals, they have people calling them 'nigger' in the historical context. While it might be easy to suggest that actors can go through that kind of thing easily, the reality is different. We've spent a generation purging that word from our lexicon. Had we not bonded the way we have, I suspect this would have been a bitter experience for many members of our cast."
Tickets are $10 for adults and $6 for children 12 and under. The box office is located at 122 South Washington Street and is open daily from 11 a.m. to 1 p.m. and one hour before each performance. Tickets can be reserved by phone at 765-362-7077.