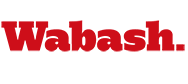 2011 Chicago Scholarship Dinner
April 12, 2011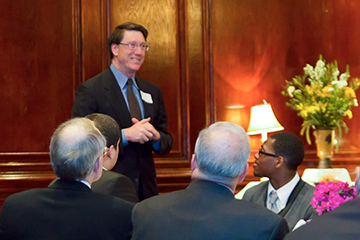 The Wabash Club of Chicago gathered at Maggianos downtown for their annual Scholarship dinner on April 11, 2011. It was a great event!
Dave Beedie
(pictured above), father of Wabash senior Chris Beedie, told the group of Wabash alumni and prospective students and parents about the profound impact Wabash has had on his son and the entire family. Dave explained that four years ago he was sitting where the prospective families were sitting, pondering the next step, and six months before that he had not heard of Wabash College. They made the choice for Wabash and could not be more pleased. Chris will graduate next month with a degree in Spanish and will be off to change the world as a Spanish teacher. Chris recently received a future teaching award - click
here
for the story.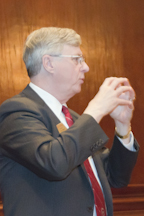 President Pat White
spoke after dinner, telling the crowd of the ongoing efforts to make Wabash ever stronger. President White mentioned the opportunities current students have including the chance to perform leading edge research along with our faculty. Just as important is the opportunity for our students to travel with their professors to national conferences AND present their findings. In fact, while President Whie was in Chicago, a group of students with Professor Ann Taylor were attending a conference in Washington, DC. President White also mentioned the accomplishments of many of our student athletes, noting they compete at the highest levels nationally in their sports AND earn recognition for their accomplishments in the classroom.
Many thanks to Greg Jania '93 and Eric Schoettle '93, Chicago co-leaders, for organizing the dinner and program. Thanks as well to Kim King '99, the Admissions representative for the Chicago area, for his work in putting together a fun evening.
Photos:
Top: Wabash parent Dave Beedie tells of his son's journey to Wabash.
Right: President Pat White makes a point about campus momentum.