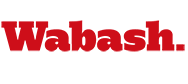 Home Runs the Difference in Two Wabash Losses
by Brent Harris

April 9, 2011

A pair of two-run homers by Allegheny College gave the Gators two victories over the Wabash baseball Saturday afternoon. Allegheny won game one 2-1 before shutting out the Little Giants in a 4-0 win in game two.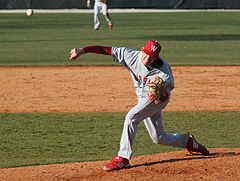 Wabash junior pitcher Andrew Swart was in control for most of Saturday's first contest. He threw all six innings for the Little Giants, allowing only five hits along with one walk and a hit batsman. Swart (right) finished with three strikeouts.
His only trouble came in the fifth. After a one-out hit, Allegheny's Eric Hansen drilled a two-run homer to left to give the Gators a 2-1 lead and the final runs of the game. Wabash had scored in its half of the fifth when a sacrifice fly by Chris Deig brought home David Seibel, who opened the inning with a double down the left field line. John Pennington nearly added to the 1-0 Wabash lead with a drive to the left field wall, but Allegheny's Phil Morrissette kept the shot in the ball park by making a key catch at the fence.
The Little Giants would manage only four hits. Pennington and Seibel were joined by PJ Tyson, who collected a pair of singles.
Wabash was held scoreless on three hits in game two by Seibel, Deig, and Tyson. Brian Van Duyn took the loss, working six innings of seven-hit, one-walk baseball. He surrendered three earned runs, with two runs scoring in the fourth on a home run by Mike Pereslucha. The Gators (10-10, 3-3 NCAC) had already scored the first run of the game in the fourth prior to Pereslucha's homer, then added an insurance run in the sixth.
Wabash falls to 11-18 overall and 4-4 against North Coast Athletic Conference teams. The Little Giants continue conference play Sunday afternoon with two seven-inning games at Hiram College beginning at noon.