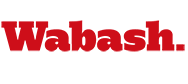 Western PA Alumni Honor Steve Charles H'70
by Michael Warren

April 5, 2011

The 2011 Man of the Year Dinner for the Western Pennsylvania Association of Wabash College Men was held Friday evening, April 1 at the Allegheny HYP Club in downtown Pittsburgh. This year's honoree, Wabash Magazine Editor Steve Charles H'70, graciously accepted the award joking that there was not a better date for an event which would honor him.

Following a lively reception and dinner, Eriks Janelsins '02, introduced Steve as the 2011 Man of the Year giving praise for his accomplishments and thanks for the great work he has done for Wabash. Steve went "off script" with his remarks talking of the many legendary Wabash figures, his "Cloud of Witnesses" he calls them, that greatly impacted him during his tenure at Wabash. Figures such as, Bill Placher '70, Hall Peebles, Susan Cantrell and Mike Bachner '70. Steve left the audience asking them to think about who their "Cloud of Witnesses" would be and what can be learned from them.

Many thanks to Lyndall Huggler '83 for once again handling the arrangements at the HYP Club. Click here to view some photos from the evening.