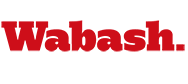 'Like a Jam Session:' Tf3 to Perform Monday
March 31, 2011

The Wabash College Visiting Artists Series is pleased to welcome Time for Three for an 8:00 p.m. performance on Monday, April 4 in Salter Concert Hall of the Fine Arts Center. Tickets are free, but should be reserved in advance through the box office.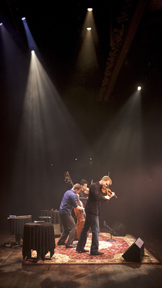 The groundbreaking, category-shattering trio
Time for Three
transcends traditional classification, with elements of classical, country western, gypsy, and jazz idioms forming a blend all its own.
"It's like a jam session," said Melia Tourangeau of the Utah Symphony. The members — Zach De Pue, and Nick Kendall on violin and Ranaan Meyer on double bass — carry a passion for improvisation, composing, and arranging, all prime elements of the ensemble's playing. "They are really young, and so much energy exudes from them. It makes you want to smile just watching," said Tourangeau.
What started as a trio of musicians who played together for fun while students at Philadelphia's Curtis Institute for Music evolved into Time for Three, or Tf3 for short — a charismatic ensemble with a reputation for limitless enthusiasm and no musical boundaries.
De Pue and Kendall first discovered their mutual love of fiddling in the country western and bluegrass styles. Then Meyer introduced them to his deep roots in jazz and improvisation. After considerable experimentation, the three officially formed Tf3.
The ensemble gained instant attention in July 2003, during a lightning-induced power failure at Philadelphia's Mann Center for the Performing Arts. While technicians attempted to restore onstage lighting, Ranaan and Zach, who were both performing as members of The Philadelphia Orchestra, obliged with an impromptu jam session that included works as far afield from the originally scheduled symphony as "Jerusalem's Ridge," "Ragtime Annie," and "The Orange Blossom Special." The crowd went wild.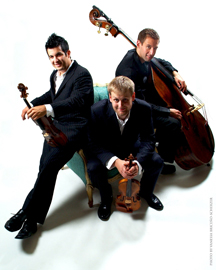 "Loaded with drive and ambition, the concerto's first movement showcased the trio's superb musicianship and uncanny ability to blend a variety of influences into a uniquely modern sound," wrote T.L. Ponick of the
The Washington Times.
To date, the group has performed more than 200 engagements as diverse as its music: from featured guest soloists with The Philadelphia Orchestra to opening for K.D. Lang at Philadelphia's Kimmel Center.
Patrons can reserve tickets by
email
or by calling the box office at 765-361-6411.
Photos:
Top: Philip DeJong, Journey Group
Bottom: Vanessa Briceno-Scherzer