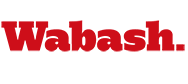 Cox: Rhetoric Still Has a Place in Debate
by John Dykstra '13

March 23, 2011

The journalistic field has been in constant limbo with technological advances and the decreasing value of a printed newspaper. Such changes have enabled falsified and underdeveloped news to influence society's views on controversial subjects at hand.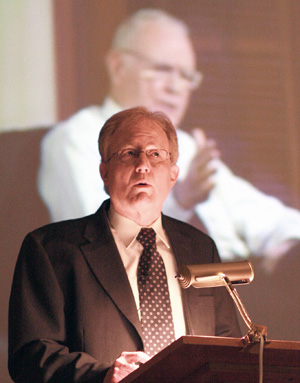 Dr. Robert Cox, Professor of Communication Studies and the Curriculum in the Environment and Ecology at the University of North Carolina at Chapel Hill, addressed issues concerning how the public media affects the public opinion of climate change as part of the annual Brigance Lecture.
Cox's lecture provided an insight as to how the world population has become skeptical of global warming. He analyzed several topics such as the "Climategate" Scandal in Great Britain, how newsrooms are declining in expertise with the subjects they cover, and the affects of biased media.
"The consequence of the latest questions for us isn't just a media that is open, democratic, and pluralistic, but also a media that enables us to become confident to understand and to accept the complexity and what forces we shall as a people take," Cox said.
"I would like to argue that there are accelerating changes in the sites of production and the distribution of knowledge about science that hinder our understanding of complexity and further that these changes are contributing to an epistemic uncertainty of not only global warming but science itself. I believe we are witnesses of curious disconnect."
Cox refuted the idea that our media follows the following metaphor: "The Greek goddess Cassandra could prophesy future disasters, but was cursed with the inability to get anybody to believe her."
"We ourselves have the capacity still for scrutiny, judgment, our ability to insist on standards and excelled arguments. We still face issues that of great complexity. But I think we need not turn just to the scientists, but to the "retor," those who exhibit the seriousness of speech."
With newsroom staffs declining, media has suffered from the lack of expertise on subjects being covered, Cox said.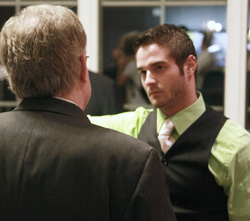 "The challenge of journalists in reporting the complexity of global warming or science comes a time of crisis in this traditional business model of media," he said. "As newspapers declare bankruptcy or appear online, the expertise available in newsrooms continues to decline. As a result, studies find that even the best of the online new media sites still have limited ability to produce content."
Cox's lecture expounded upon the essence of rhetoric and the importance of media adhering to actual facts.
"Dr. Cox's message was pretty enlightening, and I think he definitely demonstrated through his talk why rhetoric remains an important and integral part of our society," said Rudy Altergott '13.
Cox praised Wabash's late Professor Brigance on several occasions, primarily though how Brigance stressed the importance of rhetoric in the media.
"The question is: what kind of people are we?" Cox said. "Answering this, I could hear Professor Brigance reminding us that the rhetorical arts still have a place in our debate."
Photos by Alex Moseman '11
NOTE: The Rhetoric Department holds an annual dinner prior to the Brigance Forum each year where they honor senior Rhetoric majors for their accomplishments. To see photos from the dinner click here.
Watch Cox's entire speech here: