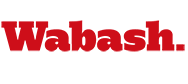 Groninger Sets Meet Record in Javelin
by Brent Harris

March 19, 2011

Sophomore Evan Groninger set a new Huntsman Relay record in the javelin, combining with teammate Daniel Ambrosio to win the event and help guide Wabash to the team title at Saturday's meet.
Groninger shattered the former meet record of 51.01 meters, set by Tyler Kallemeyn of Trinity Christian in 2008 by posting a top mark of 55.86 meters (183 feet, 3 inches). His throw fell just a few feet short of the Wabash school record of 195 feet, 8 inches set by Matt Hilgefort in 1997. Ambrosio posted an impressive final result, as well. The junior finished second individually with a mark of 46.46 meters (152 feet, 5 inches). The two combined for first place points overall. The annual meet, hosted by Wabash, combines the top-two results by each team for relay scoring in all of the events normally run as individual competitions.
Seniors Matt Scheller and Alex Moseman combined to win the hammer throw. Scheller's mark of 50.80 meters (166 feet, 8 inches) also eclipsed the old meet record of 46.6 meters set by Lucas Beach of Huntingdon College in 2007. Moseman was second overall with a throw of 44.62 meters (146 feet, 5 inches). Scheller and Brad Pusateri took first place in the shot put relay. Scheller had the best overall mark at 14.38 meters (47 feet, 2.25 inches), while Pusateri was fourth overall with a mark of 13.30 meters (43 feet, 7.75 inches).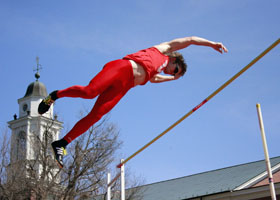 Trevor Young
(left)
and Sam Glowinski were the top duo in the pole vault. Young cleared 4.59 meters (15 feet, 1 inch) for the best performance in the event. Glowinski cleared 4.03 meters (13 feet, 3 inches). Corey McFarland won the 5,000-meter run with a time of 16:04.43. His time, combined with the third-place time of teammate Jake Ponton (16:12.62) won the relay portion of the race for Wabash.
Patrick Posthauer and John Haley started a 1-through-4 sweep of the 110-meter hurdles for the Little Giants. Posthauer and Haley were almost dead even at the line in the event, finishing with a time of 16.07. Billy Rosson took third place with a time of 16.26, while John Bogucki was fourth (16.45). Rosson and Bogucki won the 400-meter hurdles relay. Rosson finished in 56.46 to post the fastest time in the event, while Bogucki took third place by finishing in 59.12.
Chase Belton and Jonathan Koop took first place in the triple jump relay. Belton was second overall with a leap of 11.84 meters (38 feet, 10.25 inches). Koop added a mark of 11.44 meters (37 feet, 6.5 inches) to the winning total distance. Colin Dunlap was the lone Wabash runner in the 3000-meter steeplechase, finishing with a time of 10:23.34.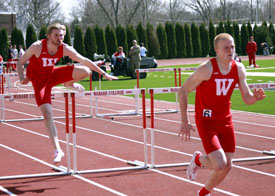 The Wabash four-man relay teams also performed well on Saturday. The team of Austin Hodges, Sean Hildebrand, Vann Hunt, and Charles Smothers won the 400-meter relay with a time of 43.23. Haley, Chet Riddle, James Kervan, and Kyle Najar combined to win the 1600-meter relay, finishing in 3:27.79. Jake Waterman, Seth Einterz, Donavan White, and Justin Allen were the top competitors in the 3200-meter relay, posting a winning time of 8:12.21. Kevin McCarthy joined White, Allen, and Einterz to win the 4x1600-meter relay with a time of 17:51.07.
Wabash scored a total of 158 points to easily claim the team title. Marian University was second (100 points), followed by Franklin (97) in third place.
Photos - (top right) Daniel Ambrosio finished second in the high jump. He also combined with record-setter Evan Groninger to in the javelin throw at Saturday's Huntsman Relays held at Wabash College. All photos by Drew Casey '12.
(Middle left) - Trevor Young sails over the bar in the pole vault. Seemingly flying through the air, Young easily won the event with his season-best mark of 15 feet, 1 inch.
(Bottom left) John Haley races to the finish of the 110-meter hurdles.
Game Stats