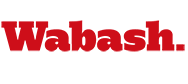 President Welcomes Honor Scholars
by Jim Amidon

March 18, 2011

Proclaiming the weekend to be one of the genuine highlights of the year at Wabash College, President Pat White kicked off the 118th Honor Scholarship Weekend with a rousing welcome to a standing room only crowd in the Pioneer Chapel.

"This is one of the highlights of the year at Wabash, for today we get a glimpse of our future," the President said.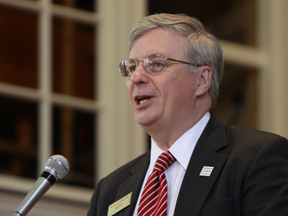 "If tradition holds, about two-thirds of you will be seated in this Chapel when I ring you in to the Class of 2015 next August."
The President urged the 400 high school students on campus taking merit-based scholarship exams to ask two important questions during their visit: Is Wabash right for me? Am I right for Wabash?
"There is no single, one way to be a Wabash man," said President White, before suggesting many of the traits that most Wabash men have in common. "Wabash men share a maturity, a capacity for leadership, a respect for the College, and have confidence in themselves."
Dean of Admissions and Financial Aid Steve Klein served as master of ceremonies for the Welcome Program, which included remarks from Student Body President Steve Henke, Independent Men's Association President Rudy Altergott, and Inter-Fraternity Council President Jake Moore.
"Our students play the largest role in the weekend, planning events to give you a sense of what life at Wabash is really like," Dean Klein said.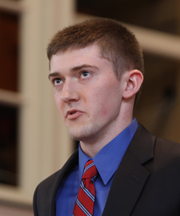 Henke told the high school seniors and their families how he became interested in Wabash. He said alumnus Jon Pactor approached him, but unlike most people, Pactor seemed to have a genuine interest in him.
"Mr. Pactor asked me tough questions as a way to get to know me; to see if I had the intellectual appetite for Wabash," Henke said, before adding, "Here at Wabash, we treat you like the men you are."
Altergott and Moore, while representing the IMA and IFC respectively, had a common theme. "There are significant differences between living in residence halls or fraternity houses," said Altergott, "but we are all Wabash men."
Moore echoed the theme when he said, "I want to stress one thing: Students at Wabash College are Wabash men, first and foremost."
As he has done throughout the recruitment process for the Class of 2015, President White reminded the high school seniors that Wabash will take them seriously — as men with ability and with dreams.
"I'll say it again: Gentlemen, you do not know how good you are and you have no idea of what you can become. You are here today because you want more out of your life… Wabash will challenge you to greatness. Wabash will take you and your life seriously. Wabash will challenge you to see something more. At Wabash, you will learn your voice."
President White detailed all of the ways Wabash men have distinguished themselves this year — from All-America performances in cross country and wrestling, to immersion trips to all parts of the world, to the Society of Physics Students' demonstration this week, which attracted several hundred school children. "They demonstrated that science is cool," he said.
And coming back to the two questions he posed to the students at the start, President White said, "I'm excited to ring you in next fall because I know Wabash will change your life. But I'm more excited because I know you will change Wabash College.
"Come to Wabash… You will find here a college like none other in the world, a college that will take you seriously and help you to become a hero in your own life."