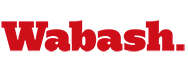 Wabash Ballpark Ready for Inaugural Series
by Brent Harris

March 17, 2011

Baseball has a long and rich tradition at Wabash College that dates back to the first game in 1866. Saturday another chapter will be added to the history of that sport when the Little Giants play their inaugural series at the new Wabash Ballpark.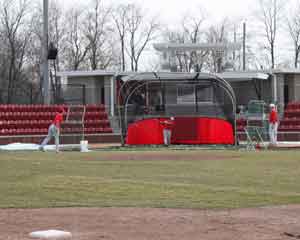 The Ballpark is part of the $6.2 million outdoor fields and athletics and intramural facilities project. The new baseball stadium is located immediately west of the Allen Athletics and Recreation Center, directly behind the Knowling Fieldhouse.
"Through the generosity of many we have created one of the best baseball venues in Division III," Wabash College President Patrick E. White said. "All Wabash is proud of this new field where the dreams of Wabash baseball players fans will be played out for years to come."
The new stadium includes a fan section with individual seating, restrooms and a concession stand. For the players, there is a spacious dugout with storage and seating, along with enclosed bullpens next to both dugouts and four new batting cages behind the right field fence. A new scoreboard, sound system, and press box will also be ready for Saturday's first pitch. Two viewing mounds outside of the left and right field fences will continue to be developed for fans to enjoy games at a later time.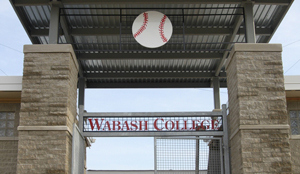 Wabash and Asbury College (now DePauw University) played the first collegiate baseball game in the state of Indiana on Saturday, November 24 1866 "on the commons, in the South part of town" as described in a journal of that period. The Little Giants played the first game at their former home, Mud Hollow Field, on April 29, 1961 before closing out a 50-year run at the area south of the current football field last April.
"The Mud Hollow facility served us well," Director of Athletics and Wabash alumnus Thomas Bambrey said. "We now have a new field, as fine a venue for baseball as any in the country in Division III, and the best park in the North Coast Athletic Conference. We are excited about the new grounds. Along with last year's installation of new artificial turf in Hollett Little Giant Stadium and this summer's renovations in Mud Hollow, which will include an artificial turf soccer stadium, and, of course, the Allen Athletic Center, we know that Wabash will have a top-notch athletic complex."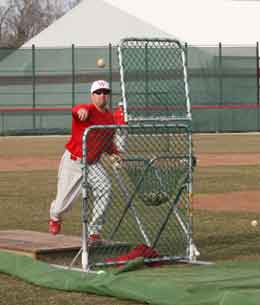 Wabash will begin play at the new stadium at 1 p.m. against Wilmington College with two seven-inning games. The Little Giants and Wilmington will play two more seven-inning contests on Sunday afternoon beginning at noon. Prior to Saturday's game, President White, Dr. Bambrey, and Dean of Students Mike Raters will commemorate the stadium's opening by throwing out the ceremonial first pitch. Raters is also a part of the history of Wabash baseball. He played for the Little Giants as a student at the College, earning four varsity letters from 1982-1985.

Wabash head coach Cory Stevens knows the stadium opening is about more than just his current group of players, but is about all the former Little Giant players and coaches, as well.

"I don't even know if I can put what this new facility means into words," Stevens said. "This is not just about Wabash baseball, it's about the entire Wabash community, even the Crawfordsville community. So many people have put so much work over the years into Mud Hollow and the Wabash baseball program. All of that hard work and effort comes together Saturday. This is a very exciting event and we're looking forward to all of the activities this weekend."

The Wabash Ballpark will be formally dedicated on Saturday, April 16. An alumni baseball game will start the activities that day, followed by the official dedication ceremony.

Photos - (top right) The Little Giant baseball team practiced Thursday afternoon at Wabash Ballpark for the first time this season. The first game is scheduled for Saturday at 1 p.m.




(Middle left) The main entrance to Wabash Ballpark.




(Bottom left) Head Coach Cory Stevens throws batting practice during Thursday's practice.




For more information see: