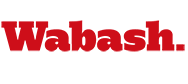 Wabash on Short End of 11-10 Final
by Brent Harris

March 11, 2011

The Little Giant baseball team suffered another close lose Friday in California, losing 11-10 to Rutgers-Newark. Wabash rallied from a seven-run deficit but could not get the tying run across the plate.

Wabash took the early lead, scoring one run in the second inning on a RBI single by Brian Lares that scored PJ Tyson. The Scarlet Raiders (4-2) exploded for four runs in the fourth inning and another five in the fifth to race out to a 9-1 advantage. Another run in the sixth and one in the seventh put Rutgers-Newark up 11-4 before Wabash would finally respond once again.

Lares started the scoring in the eighth inning for Wabash with another RBI single, this time scoring David Seibel who led off the inning by being hit by a pitch. He moved to second on a single by Joe Johnson to set up the Lares RBI base hit. Another single by John Holm brought Johnson home with the second run of the inning. Tanner Coggins walked to load the bases, then four more balls to Trey Fankhauser pushed the fourth run of the game across for the Little Giants.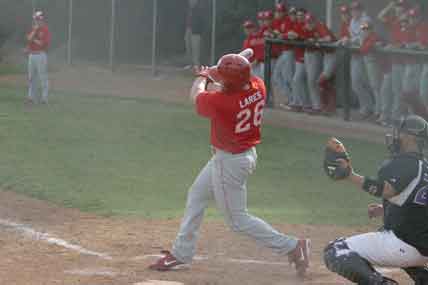 Montana Timmons followed with a two-run single to center, advancing to second when the ball was misplayed by the Scarlet Raiders' center fielder with Fankhauser moving to third. A ground ball out by Charlie Kolisek allowed Fankhauser to score. A failed pickoff attempt on pinch-runner Casey Shipley put the tying run at third with two outs, but a ground out ended the threat for Wabash.
Lares (right) led the Little Giants with four hits and three RBI. Seibel had three hits and two RBI, while Holm, Timmons, and John Pennington each added two hits.
Brian Van Duyn took the loss, working four innings while allowing five hits, three walks, and five earned runs with eight total runs scored. The senior struck out six batters. Jeff Soller pitched two innings, surrendering three runs on three hits with a walk and strikeout. Luke Holm pitched one shutout inning in relief with only one hit along with one strikeout, while Luke Zinsmaster closed out the contest with a scoreless inning of relief with a walk and a strikeout.
Wabash (2-9) will finish its spring break trip to California on Saturday with a nine-inning contest against the University of Redlands.
Rutgers-Newark 11, Wabash 10 (box score)