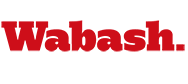 Rhoads Drops to Consolation Bracket
by Brent Harris

March 11, 2011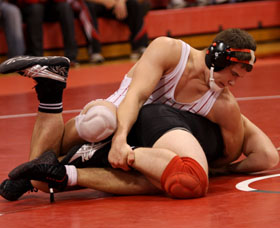 The draw for Greg Rhoads' first trip to the NCAA Division III Wrestling Championships was not favorable, placing the Wabash junior up against the second-seeded wrestler at the 184-pound weight class. Rhoads made the most of his opportunity before dropping to the consolation portion of the bracket after a 7-3 loss on the first day.
Rhoads wrestled Ben Engelland from Wisconsin-Stevens Point, who entered the match with a 22-1 overall record. Rhoads trailed 2-1 after the first period before Engelland scored an escape and a takedown in period two for a 5-1 lead. A takedown for Rhoads early in the third period closed the gap to 5-3, but Engelland managed to escape and add an extra point for riding time to take the four-point victory.
Rhoads will return to action Friday evening in the consolation bracket against Mitch Artist from Wisconsin-La Crosse, the host school for the 2011 tournament. Artist lost 9-1 to seventh-seeded Josef Rau from Elmhurst in the first round.
2011 NCAA Division III Wrestling Championships - Brackets