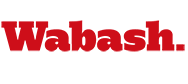 Waterman Advances to 800-Meter Finals
by Brent Harris

March 11, 2011

Jake Waterman will return to the finals of the 800-meter run at the 2011 NCAA Division III Men's Indoor Track and Field Championships. Waterman, an All-American at the 2010 meet, finished third in his heat in Friday's preliminaries. Teammate Kevin McCarthy just missed earning a place in the finals with a fourth-place finish in his heat.

View photos from Friday evening's prelims here.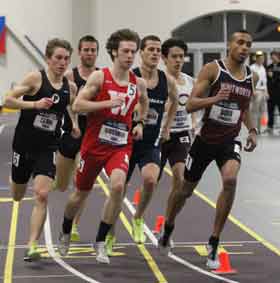 Waterman (left) took third place with a time of 1:53.04 at the Capital University Indoor Track and Field Facility. Emmanuel Bofa of Whitworth University won the heat with a time of 1:52.87. That broke the Capital Fieldhouse record in the 800 of 1:53.78 set by former Wabash runner Geoff Lambert in 2007.
"Given that the first race was so slow, I had to adjust my plan a little bit," Waterman said after learning he would advance to Saturday evening's finals. "I went out pretty quick with Bofa. I knew he would take it out pretty quick because of his experience. I basically stayed with him until the last lap. When I felt some of the runners coming up on me from behind, I just waited for the last 50 meters to try and finish strong and finish in the top three or four places."
"Jake always makes me nervous because he sits on the inside too long," Assistant Coach Roger Busch said. "But the more you get to know an athlete, the more confident you become in him. As nervous as he makes me, I know Jake will get it done in the end. He's ready to go for the finals."
McCarthy (below right), who also earned All-America honors at last year's meet, was boxed in early and could not find a clear path to pass the final runner in his first heat that would have moved him into Saturday's finals. His time of 1:54.70 was 34/100th of a second away from earning a finals berth.
"Kevin got in a physical race," Busch said. "That kind of threw him out of it for a little bit. They were all banging around and Kevin got to a point where he kind of came to a complete stop and had to rebound. That was tough for him, but that's kind of the way the 800 goes. He knew that going in; he ran hard, but just missed it by a spot.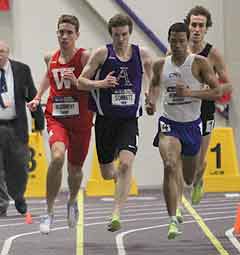 "He's obviously upset, but we talked about it after the race. The way our sport goes you get two chances at being an All-American — the indoor and the outdoor season. Now he has to get ready for the outdoor season."
"I told both Kevin and Jake I love them and I'm very proud of them," Head Coach Clyde Morgan said. " Like Coach Busch told Kevin afterward, he can learn from this. No other sport gives you another chance to be an All-American in the same season. There's no doubt in my mind Kevin will be ready to come back during the outdoor season.
"For Jake that was probably the smoothest high-pressure race I've seen him run. He was calm, cool, and collected. He made us nervous being inside, but he listened to us during the race and got out of there to finish strong. He has a lot left for tomorrow. It's any man's race."
Waterman will join the other seven finalists for the championship race Saturday evening at approximately 6:30 p.m.
800-meter Preliminary Round Results