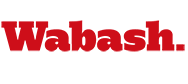 Los Angeles Alumni Host Little Giant Baseball Team
by Michael Warren

March 8, 2011

The results haven't gone the way the Little Giants would have liked so far on this Spring Break baseball trip to the west coast, but the alumni, family and friends able to see the team in action are still proud supporters. Area alumni showed their appreciation at dinner on Monday evening March 7 at the Sheraton Hotel Anaheim near Disneyland.

Bob Bittel '57, dinner organizer, welcomed everyone and introduced President Pat White for brief remarks prior to the meal. After dinner there was continued conversations between the alumni, players, coaches, and the many parents that have made the trip as well. The night even ended as many Wabash functions do with a powerful rendition of Old Wabash kicked off by Senior catcher and Sphinx Club member PJ Tyson.

Special thanks to Bob Bittel '57, Tom Billings '63, and Ken Crawford '72 for making the evening possible.

Click here for photos from the evening.