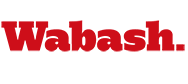 Hewitt Offers Advice on Dealing With Media
by Jim Amidon

March 3, 2011

For more than 25 years, Howard Hewitt has taught good reporting and journalism skills at newspapers as small as The Bachelor and as large as the Indianapolis Star. In Thursday's Chapel Talk, Hewitt taught the Wabash student body good media manners.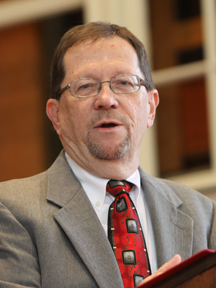 Hewitt, director of New Media and advisor to
The Bachelor
at Wabash since 2004, told the assembled students that he was embarrassed with the way they handled themselves when local and state media descended on campus last October.
In his speech, "Why Wabash Men Should Always Talk to the Media," Hewitt recalled how students evaded reporters, which he said led to a one-sided story that was not favorable to the College and "embarrassed" him.
"You may recall that was when news of a lawsuit against the College became public — and the evil media descended on campus — certain to make Wabash look foolish," he said with a little satire. Then, with a very serious tone, he said, "Gentlemen, you should take no pride in having helped them succeed — which is exactly what you did."
He told the story of television news reporters trying to get Wabash students to explain the culture and how all but one student (Thomas Schmidt) walked — or ran — away from the journalists.
"Thomas was saying the RIGHT things," Hewitt said. "I guarantee you the TV reporter would have used it… But you, gentlemen, didn't stand up for who you are and what you believe in. You failed the mission statement."
Hewitt gave advice to the students, but chose to gather the advice of three of Wabash's most esteemed journalist alumni — Tim Padgett '84, Ryan Smith '03, and Dean Reynolds '70.
"Feed the beast, Time magazine's Padgett advised. "If you no feed beast, beast eat you. But if you feed it, you disarm it."
Smith, who works as a producer for CBS News, gave simple advice: "The story is going to be told anyway, so you might as well have a voice."
"Tragedy is often difficult to deal with and there is a human impulse to go very private," advised ABC News correspondent Reynolds. "But if you are a quasi-public institution, or even one that styles itself as a major liberal arts college, privacy rights are waived."
Hewitt concluded with a positive piece of advice for the assembled students. "It's likely you will face a similar situation again in your lifetime — as a professional, or something related to your church, or an organization that you are a part of in life. Bad things happen, and we're often measured by our reactions under duress than we are for our success."
See entire talk here: