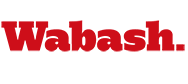 Students Question McBride in Classroom
by Jim Amidon

March 3, 2011

Wabash freshmen taking the Enduring Questions course had plenty of questions for author/musician/screenwriter James McBride when he spoke with them about his bestselling book, The Color of Water: A Black Man's Tribute to His White Mother.

The book spent nearly two years on the New York Times Bestseller List.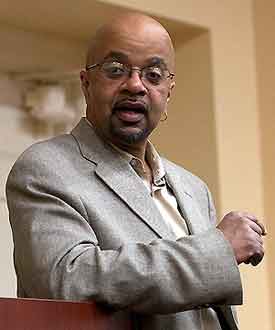 Wabash's freshmen have been reading the book, so the opportunity to hear from the author himself led to thoughtful questions about McBride's family, his identity, and even money.
In turn, McBride gave some thoughtful advice to the students, who are nearing the end of their first year in college.
Two pieces of advice were both simple and honest:
"Learn how to fail," the Oberlin College graduate said. "The Color of Water is one of my few successes. Most of my work has been a failure. But I've learned to forget my failures and move on."
An obvious devotee of the liberal arts, his other piece of advice seemed to come straight from Center Hall: "What you really need to do at this school is learn to think," he said.
The Color of Water is McBride's tribute to his Jewish mother, Ruth McBride Jordan, and her 12 children. McBride told the Wabash students and their teachers that the "itch" to write the book started during a collect phone call he made to his mother because he didn't know her maiden name (Shilsky). "That sparked my interest… which became an itch. I wondered, 'Where is my mother from? Who is she?'"
After earning a master's degree in journalism from Columbia, McBride put his polished reporting skills to work researching his mother and her history. Included in that research were many interviews with his mother, who was often reluctant to tell her own story. "Sometimes she wrote down the answers that were too painful," he said. "It's hard to interview your mom!"
On the topic of family, McBride gave the students an assignment: "Go home an interview your parents and your grandparents. Learn about the kinds of struggles your grandparents faced; you'll value that later in your life… When they die, their memories die with them, and with them a piece of you."

As students continued to ask questions, McBride answered with sound advice.
"There will always be someone bigger, stronger, and smarter… but nobody can be better at being you than you."
On Identity: "You probably shouldn't worry so much about your identity in this world, but in the next."
On leading a good life: "If you really want to lead a good life, the best thing you can learn to do is to understand others."
On being in a racially mixed family: "When I was growing up, we were mixed. But I think our poverty was a bigger issue than our race."
When asked about having money after growing up poor: "I think people who are chasing money are chasing the wrong thing. Chase happiness."
McBride also took note of the morning edition of the Crawfordsville Journal Review newspaper and its story of 77-year-old Wayne Newhart, who after retiring joined the Peace Corps as a volunteer in Ghana. "He said those years in the Peace Corps were the happiest years of his life…. Money doesn't buy you happiness; it just pays the bills."
He was also asked about the role faith has played in his life: "For all of my education and successes in life, I attribute it all to what God wanted me to do." He also said, "What ever your identities are, it's important to have some kind of belief… I think it's important to have some sense of religion in your life."
On being in touch with the world around you: "If you really want to be a success in school, you ought to start to watch TV (news) and read the newspaper; you should pay attention… Words can change the world in a positive way."
Finally, when answering a question about how he feels about people who do not live their lives with an open mind, McBride told the story of traveling on an airplane with some bandmates en route to a concert. When one of them made fun of an Orthodox Jewish child, McBride got into a huge argument with him. They ended up being late to the gig.
He told the Wabash students they would have classmates who choose not to do the right thing, but that they should try to lead by example. "At some point in your life — maybe not here — you will have the chance to step up and show who you really are, and when you do, you will show who your parents and grandparents are, too."
Photos by Drew Casey '12