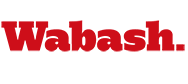 Professor Celebrates New Book, Citizenship, and Freedom
by Steve Charles

March 1, 2011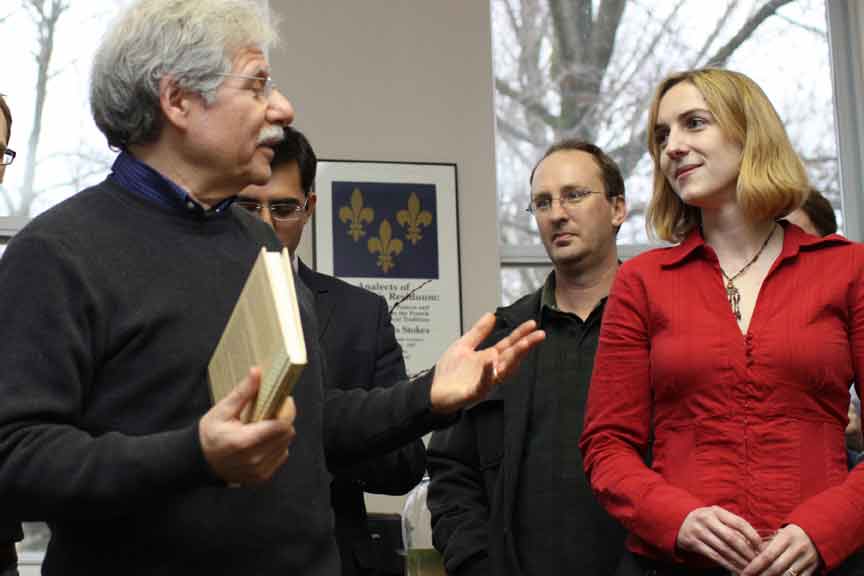 Assistant Professor of English Agata Szczeszak-Brewer has a gift for making "spectacular connections."

In her newly published book, Empire and Pilgrimage in Conrad and Joyce, she brings together the divergent personalities of two of the 20th century's literary masters in ways Ohio State University Professor Sebastian Knowles says "require art as well as scholarship."

In the case of her newly earned status as a United States citizen (Szczeszak-Brewer was sworn in on February 17), she sees with equal clarity the classic tension between freedom and responsibility.

Faculty and their families, along with students and staff, gathered in the College's Detchon Reading Room Thursday to congratulate Szczeszak-Brewer on both achievements.
The Polish-born professor's accomplishments are even more impressive, English Department Chair Warren Rosenberg noted, given the circumstances she faced as she undertook them.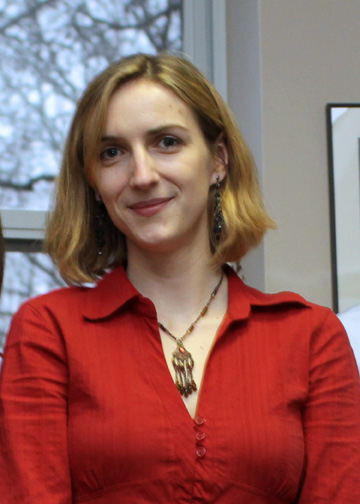 "We're here to congratulate Agata for two amazing achievements," Rosenberg said. "First, publishing a book during a time that was extremely busy for her—teaching intensively, doing her usual community service at the College as well as other scholarship, and then having a baby in the middle of all that. Still, she came out with a book that series editor Sebastian Knowles calls 'a work of both clarity and grace.'

"Add to that the commitment and effort required to become an American citizen. Congratulations, Agata, and we wish you a long and happy life here with us."

Szczeszak-Brewer, who in 2008 was named the Young Conrad Scholar by the international Joseph Conrad Society, thanked her colleagues in the English Department, the Office of Dean of the College, acknowledged the assistance of the Byron P. Trippet Fund in her research, and expressed appreciation to those who'd come to celebrate with her.

"I feel so lucky to be surrounded by students and colleagues," the professor said following the gathering. She added that even the citizenship ceremony itself was more moving than she'd expected.

"Although I've never felt particularly bound by national or ethnic identity—moving from city to city, from country to country, and feeling 'at home' whenever I was surrounded by friends or whenever I could lose myself in writing and reading—the U.S. citizenship ceremony had a surprisingly profound impact on me.

"I am still skeptical whenever I hear anyone proclaiming the supremacy of their nation's ideals, probably because I really doubt all its citizens have a thorough understanding of what these ideals are beyond jingoistic phrases. But I do have a tremendous respect for your country—my country!—and the freedom of speech and assembly granted to all U.S. citizens.
"It is especially poignant now, when people in Libya, Bahrain, and many other countries die in the streets only because they challenge their dictators. In fact, I was born and grew up in a country where you could (and people did) end up in jail or a morgue just because they tried to speak out against their government."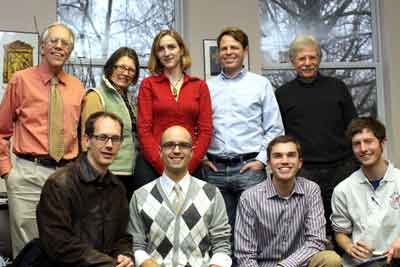 Szczeszak-Brewer says that while it's "a great feeling" to be a U.S. citizen, her six-year journey from temporary permanent resident to permanent resident to citizen took a financial, mental, and emotional toll.

"I spent thousands of dollars, and it took years of paperwork, regular fingerprinting, and several official interviews and appointments," she said. "Soon I'll be taking advantage of my newly granted freedom of speech to speak and to write about this experience."

She has already made the experience a teachable moment for her students and the Wabash community, leading tutorials and discussions on immigration. She says the response of her students provided the most gratifying moments of those classes.

"I wanted to show students how complex whole issue is, simply to educate regarding all the facts of the immigration process," she says. "I wanted them to understand what it is like to be an immigrant, to remember a moment when they felt like outsiders. I want them to have empathy, wherever they may stand politically on immigration, and most of them got it."
Reviewing Empire and Pilgrimage in Conrad and Joyce, author Georgia Johnston writes that Szczeszak-Brewer "makes spectacular connections between sacred language, nation building, and literary representation." The large number of faculty and student well-wishers crowding into Thursday's celebration suggests that, no matter what the pressures of writing the book and becoming a U.S. citizen may have been, the professor has never stopped helping her students make their own essential connections to the truth.

In photos: (from top right) Professor Warren Rosenberg congratulates new author and American citizen Assistant Professor of English Agata Szczeszak-Brewer; Professor Sczceszak-Brewer; a smaller group of students and faculty lingered after the celebration for this photo.