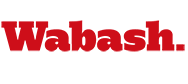 Waterman, McCarthy Lock In Times
by Brent Harris

February 27, 2011

Sophomore Jake Waterman and junior Kevin McCarthy know they will return to the NCAA Indoor Track and Field Championships for the second consecutive year. The duo posted automatic qualifying times in the 800-meter run at Saturday's Fred Wilt Memorial Invitational at Anderson University to help the Wabash team win the event.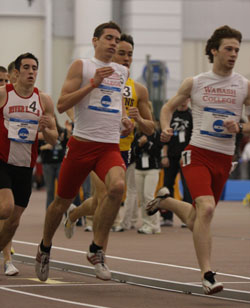 Waterman won the event with an impressive time of 1:50.87, well ahead of the automatic qualifying time of 1:52.80 established by the NCAA. His time is the second-fastest posted in the nation at this point in the season, and broke his old school record of 1:52.59 set last season.
McCarthy took second in the event with an equally quick time of 1:52.03, the fifth-fastest time nationally this year. Teammates Justin Allen and Donavan White added to the team point totals in the event by finishing fifth and sixth, respectively. Allen crossed the finish line in 1:59.65, while White posted a time of 1:59.77.
Seth Einterz added an individual victory in the mile run with a winning time of 4:23.95. Brian David took fifth place with a time of 4:30.03. The Little Giants 800-meter relay team of Sean Hildebrand, Chet Riddle, Vann Hunt, and John Haley scored a victory as well with a combined time of 1:32.42 to score ten points for the team. Haley and Riddle were also part of Wabash's winning 1600-meter relay team, joining Waterman and McCarthy to post a top time of 3:25.14.
Haley and Riddle also added two individual second-place finishes. Haley was second in the 55-meter hurdles with a time of 8.02. Riddle took second place in the 200-meter dash with a time of 23.22. Hunt was fifth (24.03), while Charles Smothers and Patrick Neary (24.09) tied for sixth. Smothers added a third place finish in the 55-meter dash with a time of 6.58. Hildebrand took fourth in the event (6.66).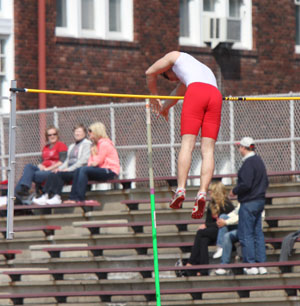 Matt Knox took second place in the pole vault by clearing 4.55 meters (14 feet, 11 inches). The height tied him with first place finisher Tyler Anderson from Defiance, but Anderson cleared the height before Knox. Wabash vaulter Trevor Young also cleared 4.55 meters after Knox and Anderson to take third place.
Matt Scheller was second in the shot put with a mark of 14.93 meters (48 feet, 11.75 inches). Joel Beier took fourth place (13.46 meters; 44 feet, 2 inches). Scheller added a fifth place finish in the weight throw (15.45 meters; 50 feet, 8.25 inches). Chase Belton took third in the triple jump with a mark of 12.22 meters (40 feet, 1.25 inches). Jonathon Koop was fourth overall (11.67 meters; 38 feet, 3.50 inches). James Kervan scored a fourth-place finish in the 400-meter dash with a time of 52.46.
Wabash won the meet with a total of 132.66 points, doubling second-place team Defiance's score of 56 points. DePauw was third (54), followed by Franklin (52), Anderson (49), and Manchester (44). Mount St. Joseph (42), Centre (36), Ashland (18), Earlham 10.33), Allegheny (10), Rose-Hulman (6), and Calumet-St. Joseph (4) completed the team scoring.
Game Stats