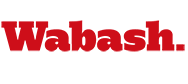 Indy Area Alumni Honor Dave Shane '70
by Tom Runge

February 27, 2011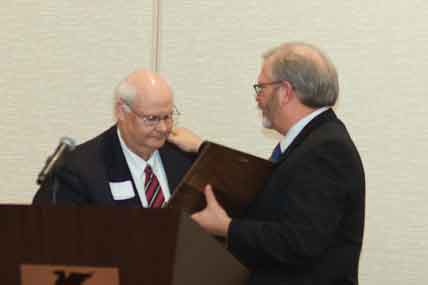 Indianapolis area alumni gathered Saturday evening at the new JW Marriott downtown to honor Wabash Trustee Dave Shane '70 as their Man of the Year.
John Bridge '72, a fraternity brother of Shane, made the presentation. Bridge mentioned Shane's many accomplishments in his professional life, including his accomplishments as a partner at the law firm of Baker and Daniels and as the CEO of LDI. Bridge also covered Dave's many efforts to serve his local community, the state, and, of course, Wabash College.
President Pat White spoke of current events at Wabash including many of the events on campus over the past two weeks.
The Indianapolis alumni group announced their next big event would be the Annual Mitchum Crock Golf Outing, set for July 19, 2011. The honoree will be Coach Mac Petty H'82.
Many thanks to Bob Wright '87, his lovely wife Mary Jo, and to the members of the IAWM for setting up the very nice evening. Wright also served as the evening's emcee.
Photo: Dave Shane '70 (l) accepts the Man of the Year plaque from John Bridge '72.