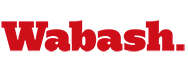 Wabash Splits Baseball Season Opener
by Brent Harris

February 27, 2011

Junior John Holm picked right back where he left off last season, blasting a two-run homer in game one for Wabash to help the Little Giants to a 6-0 win over Bluffton on Saturday afternoon in Chillicothe, Ohio. Late inning struggles on the mound led to a 12-8 loss in game two versus Case Western Reserve.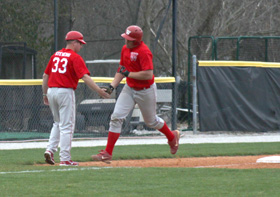 Holm, who blasted a single-season record 15 home runs last year, hit his first round tripper of the 2011 season in sixth inning after Montana Timmons opened the frame with a lead-off walk. Holm added a sacrifice fly in the eighth to account for three of the Little Giants' six runs.
Starting pitcher Andrew Swart scattered seven hits over seven innings, striking out five while allowing just one walk. Freshman Nate Adams worked one inning with a hit and a walk before Luke Zinsmaster closed out the ninth with three straight strikeouts.
Tanner Coggins would supply the only run Wabash needed for the win in the second inning. He led off with a walk, eventually scoring on a fielder's choice by PJ Tyson.
John Pennington collected three of the Little Giants' eight hits, while Chris Deig had two hits.
Wabash jumped out to an 8-2 lead through six innings before Case Western rallied for two runs in the sixth, four in the seventh, and another four in the eighth innings. Brian Van Duyn worked 5-2/3 innings, giving up five hits and four runs with seven strikeouts and three walks. Freshman Kevin Clendening took the loss in his first collegiate appearance, surrendering three runs on three hits in one inning of work. Eric Foust and Pete Schmith also saw time on the mound for Wabash.
Pennington, Coggins, and Brian Lares each collected two hits in the game for Wabash. Holm added three more RBI to his early season totals.
The Little Giants will play Case Western two more times on Sunday afternoon before preparing for their spring break trip to California the first full week of March.
Wabash 6, Bluffton 0
Case Western 12, Wabash 8