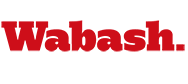 Wabash Playing the Waiting Game
by Brent Harris

February 25, 2011

The Wabash basketball team must wait until Monday afternoon and hold out hope its name will be called when the Pool C selections are made for the 2011 NCAA Division III Men's Basketball Tournament. The Little Giants fell 65-63 to Wittenberg in Friday night's semifinal game of the North Coast Athletic Conference Tournament.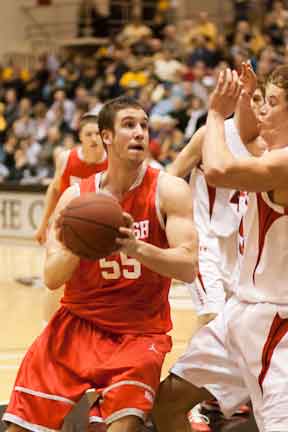 For game photos, click here and here.
Ninety-four feet proved to be the difference at the end of the ball game. With the contest tied at 63-63, Wabash junior Nick Curosh (left) took a shot inside on an offensive putback attempt that was deflected away by Wittenberg's Clayton Black. Seth Hill grabbed the rebound, raced to the other end of the floor, and hit one of his two baskets of the game --- this one coming just before the buzzer sounded to give the Tigers the win.
The loss marked the second consecutive year that Wabash lost to Wittenberg in the closing seconds of a semifinal contest. Last year, a foul call with seven seconds left on the same type of shot put up by Curosh sent David Hieber to the free throw line with seven seconds left for the game-winner. A last-second shot by Aaron Brock in that 2010 game came up short after heavy defense applied by Lewis Buzzard.
The Little Giants had no answer for Wittenberg's Chris Sullivan in this year's game. The Tiger senior was electric from beyond the arc, connecting on 9-of-11 3-point shots, scoring a game-high 29 points. Wabash kept Clayton Black under wraps most of the evening. Black entered the game as the leading scorer for Wittenberg, averaging 15.2 points a game and shooting 58 percent from the field. The Little Giants held him to 3-of-9 shooting for nine total points.
Wabash got a solid effort inside from senior Ben Burkett and Curosh to go with a team-high 19 points from Wes Smith. Curosh recorded his first career double-double by grabbing 15 boards and scoring 10 points. Burkett was 4-of-6 from the field for 11 points. Derek Bailey and Aaron Zinnerman each added eight points, while Brian Shelbourne handed out six assists.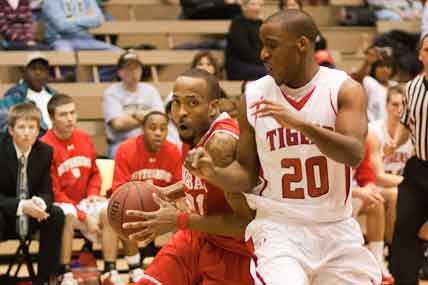 The Little Giants will wait for the 1 p.m. announcement from the NCAA Division III selection committee to see if their 20-6 record will be good enough to make the field of 61 teams to play in the tournament. Forty-two teams will earn automatic bids, with one Pool B and 18 Pool C at-large bids available. Wabash could be eligible for a Pool C bid, and will try to earn its first trip to the tourney since the 1998-99 season.

Should Wabash not receive a bid, the loss to Wittenberg will bring an end to the career of Head Coach Mac Petty, who announced his retirement earlier this month. Petty would finish with a career record of 544-417 and a mark of 497-389 in 35 seasons at Wabash.

Smith (above right) finished the night by scoring his 1,804th career points, ranking him fifth on the Wabash all-time scoring list. He owns the school record for steals with 248, the only Little Giant player with more than 200 steals in a career. His 106 career starts is also a Wabash record, while his 652 field goals made place him fifth in the Wabash record book. Burkett, Andrew Gilman, Dominique Thomas, and Kenneth Taylor join Smith as the senior members of the Little Giant team.




Results: Wittenberg 65, Wabash 63 Game Stats