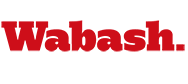 Little Giants Open Baseball Season In Ohio
by Matt Wilson
The Journal Review

February 25, 2011

The Wabash baseball season starts this year at the same place it ended last season.

Head coach Cory Stevens will get his first chance to see how his experienced team fares against another squad when the Little Giants travel to Chillicothe, Ohio to play single nine-inning games against Bluffton College and Case-Western Reserve on Saturday, then a doubleheader against Case-Western Reserve on Sunday.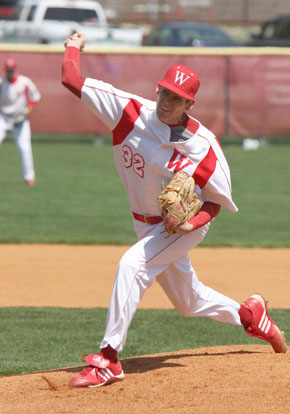 The games will be played at VA Memorial Stadium, which is the site for the North Coast Athletic Conference Postseason Tournament. Wabash advanced to the postseason tournament for the second straight year last season, but saw its season end with a 7-1 loss to Denison in an elimination game.
"I wanted to open our season there just so our players would have a chance to play there during the regular season," Stevens said. "But more than that, I wanted to play there just to show the players that this is the place we want to get back to."
With the experience Wabash has returning, the Little Giants have higher hopes than just getting back to the conference tournament. The Little Giants now have their sights set on winning the NCAC. Wabash was picked to finish second behind defending conference champion Wooster in the preseason polls released Thursday.
"We want to win the NCAC," said junior John Holm. "We were picked to finish second behind Wooster, which is fine because Wooster has a deep winning tradition. But we have some freshmen that worked hard during the offseason and our veteran players returning did a good job of coming back more of leaders and we feel like we have a good chance to win the NCAC."
Wabash returns all its position starters from last year's team that finished 19-23 overall and 9-7 in the North Coast Athletic Conference.
With the experience returning, there will be few changes to the lineup to open the season.
Senior Joe Johnson returns to second base, junior John Pennington will be back at shortstop and senior Dave Seibel will be at third base. There also will be no change to the outfield with sophomore Montana Timmons back in left field, junior Brian Lares in center field and junior Chris Deig in right field.
Timmons comes off a freshman year where he was named First-Team All NCAC. Deig was named to the second team along with catcher PJ Tyson.
Holm could be in various spots. He will be used to back-up Tyson at catcher. Holm (below left) played catcher his senior year at Naperville Central High School. He also could be used a first base along with senior Tanner Coggins, and also could be used as a designated hitter.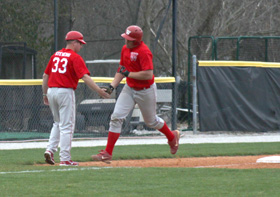 "We just don't want PJ having to catch 40 out of 40 games," Stevens said. "John is just such an athlete. I think we could put him at shortstop and he would do fine there. He is one of the most baseball-intelligent guys that we have on the team."
While the Little Giants have veterans in the field, their inexperience lies on the mound.
While Wabash does have some pitching experience returning — including starters junior Andrew Swart and senior Brian Van Duyn — there also will be some young arms used in the early season. Swart, a Crawfordsville graduate, was named honorable mention all conference after going 4-5 with a 4.97 earned-run average last year. Van Duyn pitched 11 games, starting six of those, last year.
"We don't have a set No. 1 pitcher yet," Stevens said. "Swart and Van Duyn are both interchangeable."
Swart (above right) and Van Duyn will start Saturday's games. Starters for Sunday's doubleheader will be sophomore Chris Widup and freshman Luke Holm — John's younger brother.
Widup started six games for Wabash last year, going 3-3 with a 4.57 ERA. Luke Holm helped pitch Naperville Central to an Illinois state championship last year.
"He came here with two pitches and his velocity was down a bit," Stevens said. "But during the offseason he worked hard and he picked up a third pitch and added about three or four miles per hour to his velocity."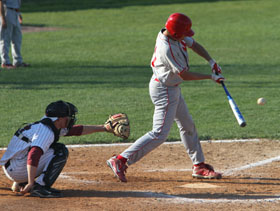 Freshman lefthander Nate Adams also will see time on the mound. Also fighting for spots are junior lefthander Pete Schmith and junior Eric Foust, who both are returning from last season.
"The question mark for this team is going to be our pitching staff, which was one of our weaker areas last year," Stevens said. "We really put a lot of focus on that during the fall and winter."
Stevens expects to see the same amount of success from his offense, which batted .336 last year.
Timmons (left) led the Little Giants with a .385 batting average, while Holm broke the school record for home runs in a season with 15.
Stevens is interested in how Wabash's offense reacts to the new bat limitations set forth by the NCAA. Stevens said the new rule is designed to bring both power numbers and ERA's down.
"I haven't swung it against another team's pitcher yet, so I don't know what kind of pop I'm going to get off the bat," John Holm said. "But we can't worry about the things that we can't control and should have another good offensive year."
Stevens designed his schedule around Wabash's goal of winning a NCAC title. The Little Giants play three Division I schools — Purdue, Butler and Valparaiso. They also head to Los Angeles for their spring trip. Wabash opens that trip with a three-game series against Chapman. Chapman, which has been in the Division III College World Series six out of the last eight years, is ranked in the top 10 in one poll and in the top 15 in another poll.
Wabash has its home opener March 19 against Wilmington.