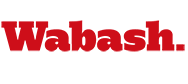 Top Wrestlers Set To Compete at Midwest Regional
by Brent Harris

February 24, 2011

Two nationally-ranked programs and five wrestlers named in the latest Brute-adidas Division III poll will be part of the field at the 2011 NCAA Division III Midwest Wrestling Regional. Wrestling action begins Saturday morning at nine o'clock at Chadwick Court on the campus of Wabash College in Crawfordsville, Indiana.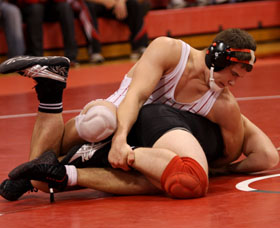 Schools competing at the Midwest Regional are Case Western Reserve, Manchester, Mount St. Joseph, Olivet, Thiel, Trine, Washington and Jefferson, and Waynesburg along with the host Little Giant team. Olivet is ranked ninth in the latest national team poll with a record of 13-5-1 in dual competition this season, while Wabash is 16th with a mark of 11-4-1.
Tickets for the event are $5 for adults, $4 for students, and $2 for seniors and children under the age of 12 years. Chadwick Court will open for spectators at 8 a.m. on Saturday.
Weight Class Previews:
125 pounds - Alex Crown (Waynesburg) is the early favorite with a record of 28-2 heading into regional competition. Josh Boyer (Wabash) is 20-11, while Olivet's Adam Wilson has posted 19 victories this year.
133 pounds - Junior Corey Brown (Thiel) is ranked ninth in the nation with a record of 22-2, and finished eight at nationals last year. Kenneth Richmond (Olivet) has 18 wins, while Marc Escobedo from Wabash has 15 victories.
141 pounds - Garrett Payne (Wabash) tops this weight class with a 21-10 overall record. Nick Garber (Waynesburg) enters the weekend with a mark of 17-4, while Vince Tucker (Olivet) is 18-8. Tucker was a national qualifier at 141 pounds in 2010.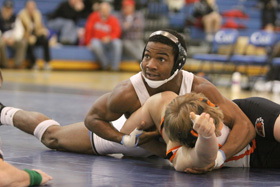 149 pounds - Junior Isaac Dukes (Case Western Reserve) is the top-ranked wrestler in the nation at 149 pounds with a record of 30-2, and is the defending national champion. His challengers include Wabash wrestler and national tournament qualifier (141 pounds) Jake Strausbuagh with a record of 42-8, and Luke Lohr from Waynesburg with a mark of 31-3. Manchester's Cameryn Brady is 31-8 this season, as well.

157 pounds - Trine's Elias Larson is ranked seventh in the nation with a record of 24-5. Tommy Fehring from Mount St. Joseph tops the weight class in victories with a record of 31-10. Graham Youngs (Wabash) is 29-20 this year, while Thiel's Alec Miller boasts a mark of 20-10. Steven Mena from Olivet is 13-3 overall.

165 pounds - A 22-4 record for Olivet's James Myers has landed him at seventh in the latest national rankings at 165 pounds. Jake Moore from Wabash is 32-14, while Waynesburg's Sam Lombardo is 23-9. Ryan Pieper from Trine is 23-13 this season.

174 pounds - This weight class may be wide open. Trine's George Markou boasts the best record with a mark of 32-8. Olivet's Trevor Tyler is 19-8 overall, and Wabash wrestler Dalton Stanley enters the weekend with a record of 22-14.

184 pounds - Greg Rhoads (Wabash) ranks 10th in the nation with a record of 35-14 heading into regional competition. Olivet's James Neal is 23-8, while Nolan Karwoski from Mount St. Joseph is 18-10.

197 pounds - The 197-pound weight class is another that could see almost anyone walk away s the champion. Alex Fleet from Trine University owns a 26-13 record, equalled by Justin Leonard from Olivet. Sean Jameson from Mount St. Joseph enters the weekend with a record of 21-14. Robbie Mies from Washington and Jefferson is 15-7 this season, while Wabash's Austin O'Neil has a record of 14-11.

285 pounds - Three 20-win participants will be among the favorites at heavyweight. Olivet's Logan Renas is 25-8 this year, while Manchester's Jimmie King boasts a 21-12 mark. Cale Harter from Case Western Reserve enters the weekend with a record of 20-16. Pat Clegg from Wabash has 18 wins (18-10), while Taylor Potts (Washington and Jefferson) is 16-15. Waynesburg's Brandon Fedorka checks in at 15-4.

Photos - Little Giant wrestler Greg Rhoads (top left) and Case Western Reserve's Isaac Dukes (bottom right) are among the nationally-ranked wrestlers who will compete at Saturday's NCAA Division III Midwest Wrestling Regional, hosted by Wabash College.




For more information see: