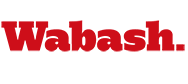 "30 Mosques" Speakers Tell American Stories
by Steve Charles

February 24, 2011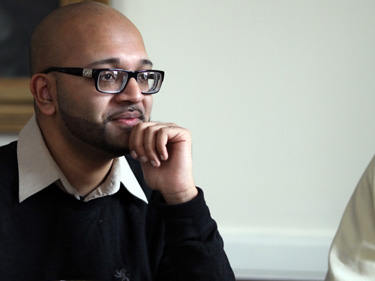 Comedian Aman Ali and filmmaker Bassam Tariq spent the afternoon with students and told the Wabash community stories from their visit to 30 mosques in 30 states over the 30 days of the holy month of Ramadan.
The men were visiting campus as part of their 30 Mosques/30 States Speaking Series, sharing with others what they learned from the trip.
"America is an incredibly accepting country," Tariq said following the presentation. "I think that sometimes we forget that. Sometimes we don't give credit to America.
"Of course, every group has had to struggle for their rights. Whether it's women, or African Americans, the gay and lesbian movement—there have always been people fighting for their rights. Muslims are at that point now.
"But the person who is going to win out is the one who has the brightest definition of acceptance for America. That has to be— otherwise we're not America."
See photos from Tariq and Ali's time at Wabash here and here.
In photo above: Aman Ali listens during lunch with students in the College's Fobes Dining Room on Wednesday.