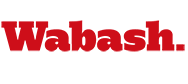 Wabash Graduates Share with Top 10 Attendees
by Howard Hewitt

February 21, 2011

No one explains Wabash College like a Wabash man. Throughout the school year many Wabash alums return to campus during high school visitation days. A handful of recent alums took part in Monday's Top 10 Visitation Day.
The message for the high school senior men often plays around the same themes – the liberal arts, fraternity life, student-faculty relationships, and the all-male campus. But the stories and anecdotes change with every individual Wabash graduate.
The unscripted and unrehearsed panel discussions are one of the most valuable assessment tools for future students.
"I didn't know anything about the liberal arts when I stepped on this campus," Oscar Torres '01 said. Torres is now a school teacher and coach in Southern Texas. "I didn't know what to expect from college. I would have never stood before a group of people like this before I came to Wabash. Wabash gave me confidence. I was really green. Wabash really made me a better person."
The alums shared personal reflections to skills they developed during their Wabash years. "I have to be a good listener," said Ryan Smith'03, a producer for CBS News 48 Hours Mystery program. "I learned to listen at Wabash and to accept that I have a lot to learn.
"Wabash provided me with an opportunity to go anywhere and really thrive and to be able to listen and be open to new ideas."
All of the panelists repeatedly returned to the familiar refrain, 'Wabash teaches you how to think.'
Wes Zirkle '98 is an attorney for Just Marketing Inc. which does contractual work with sponsors for NASCAR and Formula One. He was a Religion major at Wabash. "I moved my way up where here. My goal was never to be the smartest guy in the room because I'm not the smartest guy in the room," he told the attentive young men. "I moved up because you always want to be the best person in the room."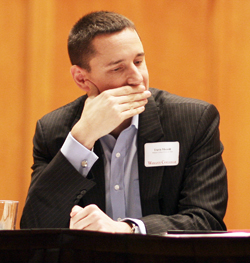 Travis Merrill '98 (
at left
) was a high school athlete from Western Boone near Jamestown. He played basketball but struggled his first year at Wabash. "I always thought of learning as accumulating knowledge, but I learned how to learn here," he said.
Merrill credited Wabash with teaching him to write. He now works in development for Samsung and just took over the company's effort to move into the computer tablet business.
Ben Seib '02 was an Economics major who now works for the Cancer Treatment Center of America. He wasn't a Top 10 student when he came to Wabash "but they saw something in me." He credited the rigor of the Economics department for helping develop his ability to achieve success. He soon learned his liberal arts education proved the equal or superior to work colleagues from major state institutions.
Nearly 70 students participated in the winter Top 10 program. Students who rank in the top 10 percent of the class and participate in the visit day could earn the Top Ten Scholarship worth $15,000 a year ($60,000 over four years). For students in the top 5 percent, the amount jumps to $17,500 a year.
In top photo, from left: Torres, Zirkle, Smith.