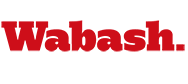 Indy Alumni Offer Mentoring Tips
by Tom Runge

February 18, 2011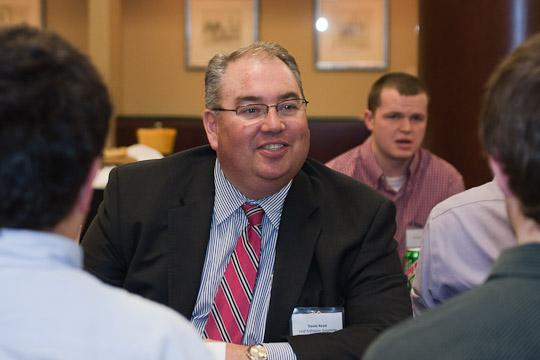 Indianapolis area alumni met at the downtown location of the law firm Barnes and Thornburg to offer Wabash students an opportunity to polish their interviewing skills.
Over 40 Wabash students and nearly 30 alumni gathered for a special round of speed networking/ interviewing.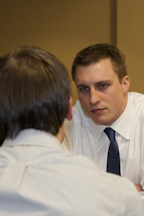 Scott Crawford used a proven concept of having the students talk to an alumnus for a fixed amount of time. On Scott's signal, the students rotated to a different alumnus offering the opportunity to present themselves several times during the evening and also get tips from several different alumni.
Scott employed a pair of maracas to signal time to shift to a new table. You can see Scott in action in the photo album.
The auditorium at Barnes and Thornburg offered a perfect space for the even with enough room to spread out the mini-interviews. The food was excellent as well!
Many thanks go to Indianapolis alumnus and IAWM board member Dave Reed '89 for organizing the event and to Bob Grand '78 and Paul Jefferson '92 of Barnes and Thornburg for their help in getting the space.
Photos:
Top: Dave Reed '89 talks with two students
Right: Blaine Cooper-Surma '09, who served as a peer advisor during his days at Wabash, now sits on the other side of the table.
For more photos, click here.