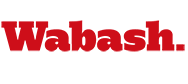 Birrer Adds Another Title, Wabash Third at NCAC Meet
by Brent Harris

February 12, 2011

David Birrer joined teammate Evan Rhinesmith as an individual champion at the 2011 North Coast Athletic Conference Swimming and Diving Championship meet by winning the 200-yard butterfly. The Little Giants finished third in the final team scoring.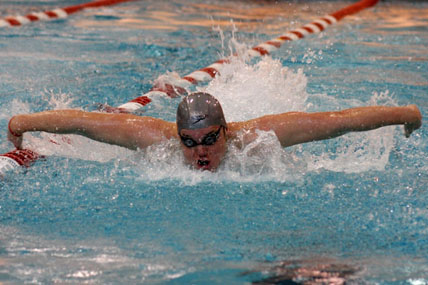 Birrer (right) narrowly out-touched Kenyon's Joe Pysnik in the finals of the 200 fly, winning with a time of 1:51.64 to meet the NCAA "B" cut qualifying time. He was joined in the finals by Adam Current, who finished ninth with a time of 1:57.11. Logan Falley took 15th place in the 200 fly by finishing in 2:03.02. Brad Wise also scored for the Little Giants with his 20th-place finish (2:06.03).
The Wabash 400-yard freestyle relay of Eric Vaughn, Birrer, Rhinesmith, and Charles Williams earned All-NCAC honors by finishing third with a time of 3:10.21.
Two other Little Giant swimmers competed in the A finals on the final night of the meet. David Phillips took eighth place in the 200 backstroke with a time of 1:55.32. Rhinesmith scored an eighth-place finish in the 200-yard breaststroke with a finals time of 2:10.38. Paul Buescher added a tenth-place finish in the event with a time of 2:10.06.
Five Wabash athletes competed in the finals of the 100 freestyle. Williams finished 12th for Wabash (47.49), while Vaughn was 13th (48.02). Alex Beck scored a 16th-place finish (48.50), while Jake Pahud touched in 21st place (50.30). Jacob Alter added a 23rd-place finish (50.70).
Phillips also picked up a seventh-place finish in the 1650 freestyle with a time of 16:28.85. Chad Woods finished in 14th place (17:14.87), while Logan Rice was 19th (17:44.70).
Divers Jake Schild and Jacob Anderson also scored for Wabash on the one-meter board. Schild took sixth place with a total of 383.85 points. Anderson was 11th with 268.55 points.
Wabash scored a total of 805 points in the final team standings for its third-place finish. Denison won the team competition with 1,774.5 points, followed by national powerhouse Kenyon with 1,572.5 points. Wittenberg was a distance fourth place with a total of 691 points, followed by Wooster (671.5), Oberlin (659), Allegheny (633), Ohio Wesleyan (398), and Hiram (334.5).
Game Stats