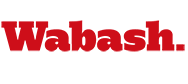 Summit Focuses on Entrepreneurism
by Howard W. Hewitt

February 12, 2011

Wabash students and alums gathered Saturday to explore the close connection between an entrepreneurial spirit and the liberal arts. The Schroeder Career Center sponsored its first Entrepreneurial Summit.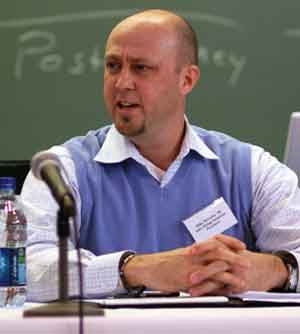 The panel discussions featured CEOs who lead large and small companies and Wabash men who've started with little and built successful businesses. See photos from the summit
here
.
Mike McCarty '90 left Wabash and entered law enforcement. He is now owner and CEO of
Safe Hiring Solutions
, a company that checks the background of potential new employees for more than 1,500 clients.
"I'm back on campus frequently but this is the first time I've been engaged with something that wasn't athletics," the Danville, IN., resident said. "I've been talking to students thinking this would have been so valuable for me as a student. I knew I didn't really want to go to law school but I thought that was the direction I was going to head. I really didn't know what I wanted to do but I had this entrepreneurial spirit. Things like this seminar today would have been just phenomenal."
The panels included nine different presenters, eight were Wabash graduates.
"This was our first shot at creating some sort of an entrepreneurial push at Wabash," Director of Career Services Scott Crawford said. "We have a lot of alums who we know are entrepreneurs. We have a lot of students who are entrepreneurial. With the way the job market and the economy is going it pushes people to be a little more entrepreneurial. These students are not going to work for the same organization for 40 years like their parents did."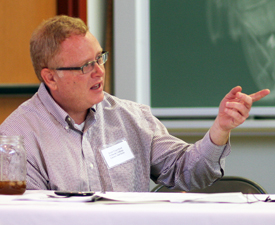 The turnout was great for a Saturday seminar with Hays 104 packed from morning until midafternoon. Crawford was particularly pleased with having 55 students registered and a big number of alums in attendance who were not on the program.
"It was sort of a quick and dirty overview in a way," Crawford said. "This kind of lays the ground work and we're going to take it from there. There is a lot of interest from the students. I think in some ways it dove tails with the
Business Leaders Program
.
"The liberal arts is entrepreneurial in some ways; it creates that whole 'looking at the big picture' of how can I solve this problem. I think this is where we connect that to the school and create some more intentional entrepreneurial experiences for students and alums."
Senior Joe Johnson enjoyed hearing the entrepreneur's individual stories. "For someone like me, who has an entrepreneurial focus or wanting to be an entrepreneur, I learned there are many different avenues you can take to get there. It was like learning the basics of how you plan your business, make well-educated decisions, and a lot of things we've learned before but there were a lot of new things today too."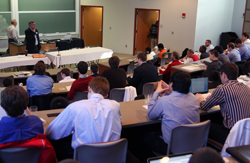 The senior said hearing the successful alums talk about the appropriate time to buy or sell a business, the appropriate time to get into a new business, what's hot and what's not, was overall beneficial. "I think we need more of these because there are so many ideas out there," Johnson said. "Sessions like this can be very motivational to use the tools we've learned about today."
Alum business men participating on the panels included: John Hilbrich, CEO of BrandImage, Chicago; Dr. Joe Trebley, Executive Director of Research and Development, Kylin Therapeutics; Tyler Bush, Founder and Creative Director of Rusted Blue, Chicago; Mike McCarty, CEO of Safe Hiring Solutions; Herm Haffner, Owner of Total Solutions; Pat East, President of Hanapin Marketing; Chris Brown, Partner, Woodard Emhart Moriarty McNett & Henry, LLP; Thomas Walsh, Founder, St. Louis Arch Angels
The seminar opened with a keynote by Lauren Berger, "
The Intern Queen
," on Putting Your Ideas into Action."
She also came back later in the day to help lead a discussion on business use of Social Media tools. She talks about social media for business in the video below.