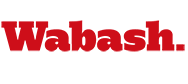 Nine Headed To First-Day Finals of NCAC Meet
by Brent Harris

February 10, 2011

Wabash will have nine entries in the finals of the first day of competition at the 2011 North Coast Athletic Conference Men's and Women's Swimming and Diving Championships. The Little Giants were led by senior Evan Rhinesmith, who nearly broke the school record with his time in the 200-yard individual medley preliminaries.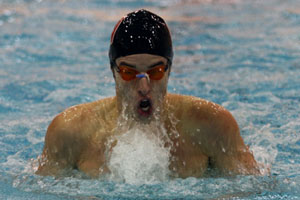 Rhinesmith (right) finished with the 10th-fastest time in the morning session of the 200 IM, finishing in 1:56.71 to earn a spot in the finals. His time was less than a second off the 12-year-old school record of 1:55.77 set by RJ Morgan at the 1999 Liberal Arts Invitational. Rhinesmith was part of the Little Giants' 200-yard freestyle relay team that finished third in the morning prelims with a time of 1:27.32 to advance to the finals. He was joined by David Birrer, Adam Current, and Logan Rice.
Freshman David Phillips finished 12th in the prelims of the 500-yard free with a time of 4:51.49 to advance to the finals. Freshman Adam Barnes was 19th in the 500 prelims, joining Phillips in finals after posting a time of 4:57.79.
A quartet of Little Giant swimmers will compete in the finals of the 50 free Thursday night. Charles Williams finished 14th with a time of 21.88, while Birrer was 20th after finishing in 22.35. Alex Beck posted the 22nd-fastest time of 22.48, while Jake Pahud earned the final spot in the evening session with a time of 22.70.
The Wabash 400-yard medley relay team of Phillips, Paul Buescher, Current, and Chad Woods combined for a time of 3:37.23 to finish fifth in the prelims.
The three-day championship meet is being hosted by Denison University at the CT Branin Natatorium in Canton, Ohio.
Game Stats