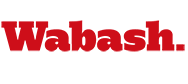 Petty Announces Retirement
by Brent Harris

February 8, 2011

Mac Petty, a fixture in the Wabash College Athletics Department for 35 seasons, has announced his retirement as Head Basketball Coach at the end of the academic calendar year.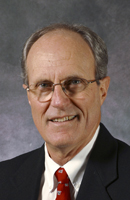 Wabash will honor the accomplishments of Coach Petty's career at the conclusion of the final regular season home game on Saturday, February 19 versus Oberlin College. A search for his replacement will begin at the conclusion of the 2010-2011 basketball season.
"I don't know if there are enough words to describe my feelings and the gratitude I have for Wabash to allow me the privilege of being involved with so many fine young men over my 35 years as head coach," Petty said. "However, I'm not getting any younger, and I have a partner in my wife, Gloria, who has been with me for 40-plus years. I think it is time to spend some quality time with her."
Petty is the winningest coach in Wabash history with a record of 494-387, and has a career win-loss record of 541-415. He began the 2010-11 season 10th in total wins among active Division III men's basketball coaches and ranks 20th on the all-time coaching list.
"I remember the decision to first come to Wabash and the challenge of fixing a program that was down," Petty recalls. "I talked to Bobby Knight, who I played against in high school. He told me that Wabash could be a diamond in the rough. Fortunately because of the hard work of our fine student-athletes, we've been able to turn that around. The credit for our success goes to my players, my assistants, and all of people who have been associated with Wabash basketball over the past 35 years."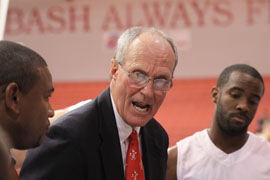 Petty and success have gone hand in hand throughout his career. After taking over a team that finished 4-22 in 1974 and 6-20 in 1975, he quickly helped Wabash to the first of five 20-win seasons over his career in 1979. He guided the 1981-82 Little Giant team to a 24-4 record and the 1982 NCAA Division III national championship. The National Association of Basketball Coaches named him the 1982 Division III National Coach of the Year.
"To generations of students and colleagues Mac Petty remains the consummate Wabash gentleman," said Wabash President Patrick White. "For us all he has modeled what it means to be a gentleman and a citizen – a man of honor, integrity, respect, and passion for excellence and for Wabash."
Petty's 1996-97 team won the Indiana Collegiate Athletic Conference tournament and earned a berth in the NCAA playoffs. The following season the Little Giants won both the conference regular season and tournament titles, earning a trip to the NCAA tournament for the second consecutive season, while earning Petty District Coach of the Year honors. During that run, Petty guided Wabash to its best four-year record in the history of the program, going 83-26 from 1996-2000.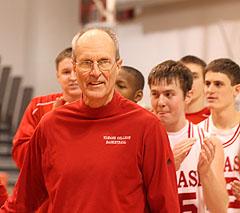 He has coached five teams to 20 or more victories, with his current team owning a 17-4 overall record with three regular season games remaining on the schedule. Petty received the North Coast Athletic Coach of the Year Award last season after his Wabash team finished second with a record of 12-4 in conference play and an 18-8 mark overall.
Petty was inducted into the Wabash Athletics Hall of Fame in 1996. He was added to the Montgomery County Basketball Hall of Fame in 2006. Petty was named an honorary alumnus of Wabash in 2005.
"As a coach, Mac Petty takes young men seriously and demands of them maturity and achievement, and leads them to take themselves seriously in every aspect of their lives — academic, athletic, and personal, and in their commitment to team, college, family, and community," said President White.
Petty was a standout baseball and basketball player at Wooster High School in Wooster, Ohio. He was inducted into the Greater Akron Baseball Hall of Fame in 2004. He is also a member of the Wooster High School and Wayne County Athletics Halls of Fame.
Petty earned a basketball scholarship at the University of Tennessee and played both varsity baseball and basketball. Petty helped the Vols' baseball team to a Southeastern Conference title in 1966 and received professional offer from the New York Mets. Petty stayed in school, graduating in 1968 with a degree in physical education, while also helping the Volunteers' basketball team win the 1967 SEC title.
Petty's first coaching job came at Loudon High School in Tennessee, where he coached basketball for three seasons. He then accepted the head coaching position at the University of the South at Sewanee, where in three seasons he posted a 47-28 record.
"Coach Petty has been seen as the consummate Wabash Gentleman by our students — not just his players — throughout his time here," Wabash Dean of Students Mike Raters said. "His interests and efforts in the whole life of the College, and the education of our students, have been most evident during his tenure. Accordingly, his retirement will be emotional and impactful for Wabash men of many generations."
Petty has been involved in basketball away from the Wabash campus, too. He was as an assistant at the 1983 National Sports Festival and, in 1985 he assisted former Purdue coach Gene Keady on the USA's Jones Cup team in Taiwan. Petty is a member of the NABC, for which he has served as a congressman and member of the research committee. He has been a member of the NCAA's 12-member rules committee. He is also a former member of the NABC College Division All-America committee. Petty was recognized for his long-time service as a teacher and mentor of the game of basketball by the NABC in 2010 with the Guardians of the Game Award for Advocacy.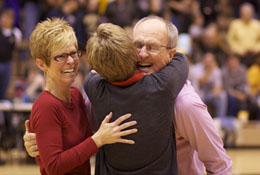 "The highest compliment I can pay him is that I've lost count of the number of non-basketball-playing alumni who have commented about how tough it will be on the College when he steps aside," added Dean Raters. "He is, without question, a legendary figure who, like others who achieve that status, has become one due to his success, humility, gentlemanly behavior, and widespread positive affect on the lives of those both inside and outside his direct sphere of influence."
Petty is active in the Kiwanis Club and the First United Methodist Church. An avid golfer, he has coached the Wabash golf team since 2005. Petty has achieved the associated faculty rank of full professor, and is a member of the Wabash faculty athletic and teacher education committees.
Petty and his wife have two grown children, Susan and Matt. An Indiana basketball All-Star, Matt was a four-year letterman on the Creighton University basketball team. The Petty's also have four grandchildren.