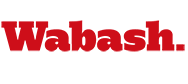 Frenzied Finish Ends In Wabash Loss
by Brent Harris

February 3, 2011

Denison's Jim Leffew scored seven points in the final few seconds of Thursday night's Wabash basketball game in Granville, Ohio. His buzzer-beating 3-point shot gave the Little Giants their third straight road loss in a 65-62 contest.

Wabash battled back from a 13-point first half deficit to take a 59-58 lead over the Big Red with less than a minute play. Denison's Alex Longi missed a jumper in the lane and Brian Shelbourne corralled the rebound and was fouled with 18 left in regulation. Shelbourne drilled both free throws, putting the Little Giants in front 61-58.

Leffew's heroics started 11 second later.
The 5-9 guard hoisted a 3-point shot from the right wing, nailing the shot while also drawing a foul from Derek Bailey. Leffew, the top free throw shooter on the Denison (7-14, 4-8 NCAC) squad, finished the 4-point play to put the Big Red up 62-61. After a timeout, Shelbourne drew a foul on Denison's Mike Garabedian before the Little Giants would inbound the basketball. Shelbourne missed the first of two tosses, but canned the second to even the score at 62-62 with 4.8 seconds left in regulation.

Leffew, who had already hit four treys in the contest, raced down the left side of the court after a Wabash timeout and banked home the game-winning shot from just inside the midcourt stripe to give the Big Red the victory.

After Denison had taken a four-point halftime lead, the second half became an offensive showdown between two of the top scorers in the North Coast Athletic Conference. Wabash's Wes Smith (right), the leading scorer in the league at 22.8 points a contest, scored 14 of his team-high 24 points in the final period to help Wabash erase the Denison lead. Dimonde Hale, fourth in the league with a 17.2 points per game average, scored 24 points in the game with 18 coming in the final 20 minutes of play.

Wabash got off to another slow start on the road, trailing 7-0 before scoring its first basket three minutes into the game. The Little Giants hit only 8-of-23 shots from the field in the first period but finished 21-of-47 overall. Denison shot 26-of-59 for the game.

Ben Burkett scored 11 points for the 15th-ranked Little Giants, while Aaron Zinnerman added 10. Leffew had 18 points for the Big Red.

The loss drops Wabash to 16-4 overall and 8-4 in the NCAC. The Little Giants travel to undefeated and top-ranked Wooster Saturday for a 2 p.m. contest. The Scots defeated Hiram 70-64 Thursday evening.




Results: Denison 65, Wabash 62 Game Stats