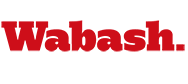 Alumni Board Meets with MXIBS Students
by Tom Runge

January 30, 2011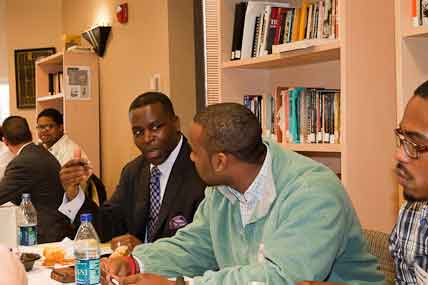 One of the centerpieces of the January meeting of the Wabash Alumni Board was a chance to host a luncheon for the members of the Malcolm X Institute of Black Studies and to offer the board's help and support as the college begins a new era at the MXIBS.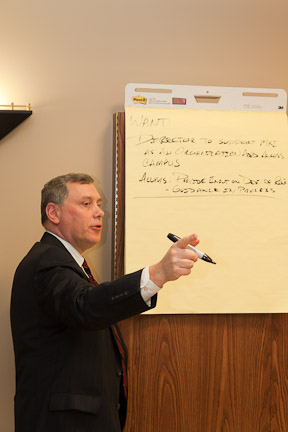 Members of the Alumni Board divided themselves among the students for the discussions. The group was joined by the college's committee whose charter is to develop the future vision and operating strategy for the Institute. At the conclusion of the luncheon, each working group reported its major discussion points. While a great deal of discussion centered on the possible role(s) for the new director/staff of the Institute, the discussions also surfaced a number of opportunities for the Institute.
The Alumni Board members later discussed the overall report and that discussion included the Chairman of the Board of Trustees Steve Bowen '68 and President Pat White.
Many thanks to committee chair Greg Estell '85 for putting together the program, Reggie Steele '12, the current Chairman of the MXIBS for organizing a great turnout, and to the folks at Bon Appetit for a warm, filling, and great-tasting meal.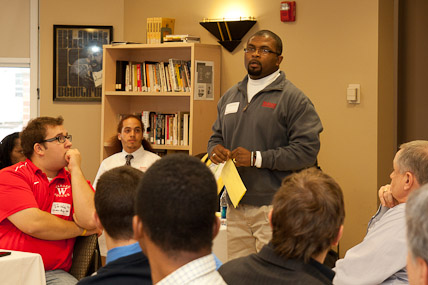 Photos:
Top: Alumni board member Keith Veal '92 talks with current student DJ Singfield '11.
Right: Board member and committee chair Greg Estell '85 takes notes and focuses the discussion.
Bottom: College committee member and Track Coach Clyde Morgan offers suggestions on increasing the visibility of the MXIBS.