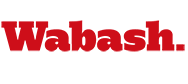 2011 Alumni Game Competitive and Fun To Watch
by Tom Runge

January 30, 2011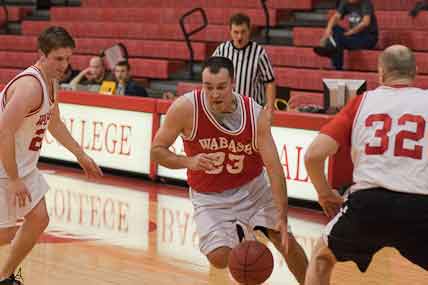 One of the best crowds in years turned out for the Annual Alumni Basketball game. Wabash legend Josh Estelle '00 was inducted into the Athletics Hall of Fame during the halftime of the varsity match against Kenyon College and that ceremony, plus the chance to see Josh play in the alumni game, was a draw.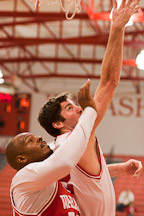 After the game, on of the players mentioned that it got "serious" with about 10 minutes to play in the second half. That shouldn't surprise anyone and he was only mildly surprised, mostly at the quick change in ace. "Wabash Always Fights" and these guys are all competitors to the core explains it, we think.
Can these guys still play? Bet your life. And are they still "into" Wabash basketball? Summed up best by Josh Estelle '00 on his acceptance talk. "Let's get off this court so we can get on to another Wabash victory"
For more photos, click here.
Photo top: Wabash legend Josh Estelle '00 driving in the first half.
Photo right: Theo Johnson '98 guards Joe DesJean '03