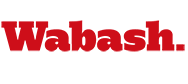 Wabash Wins NCAC Indoor Relay Championship
by Brent Harris

January 29, 2011

The Wabash College indoor track and field team scored seven first-place finishes to claim the team title at the 2011 North Coast Athletic Conference Relays held Saturday afternoon at Oberlin College in Oberlin, Ohio.

View photos taken by senior Alex Moseman, who was also part of the winning weight throw relay team, here.

The quartet of Austin Hodges, Jimmy Kervan, Micky Posthour, and Kevin McCarthy won the sprint medley relay, crossing the finish line with a time of 3:38.11. The remainder of the top finishes for the Little Giant team came by combining individual results in various track and field events.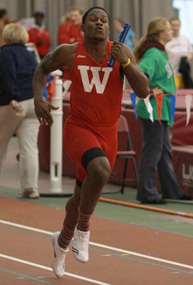 Charles Smothers (left) posted the fastest time in the 55-meter dash, winning the individual title by finishing in 6.64. Teammate Sean Hildebrand took third with a time of 6.75, giving the pair the first place time of 13.39 to win the 55-meter dash relay. Seth Einterz won the 5,000-meter run with a time of 15:20.47, joining with Brian David in sixth place (15:40.48) for a total time of 31:00:95 to win the relay portion of the event.
Matt Knox and Sam Glowinski (below right) finished 1-2 in the pole vault to easily capture first place in the relay portion of the event. Knox cleared 4.25 meters (13 feet, 11.25 inches) for the best mark in the event, while Glowinski cleared 3.95 meters (12 feet, 11.50 inches) for second. Chase Belton and Vann Hunt combined to win the triple jump relay with a total distance of 24.43 meters (79 feet, 10 inches). Belton finished third overall (12.18 meters; 39 feet, 11.50 inches), while Hunt was fourth (12.15 meters; 39 feet, 10.50 inches).
Patrick Posthauer and John Haley won the 55-meter hurdle relay with a combined time of 16:34. Posthauer finished second overall with a time of 8.12.
Seniors Matt Scheller and Alex Moseman added the final relay title, scoring a total distance of 28.85 meters (93 feet, 4.25 inches) in the weight throw. Scheller was second overall (15.16 meters; 49 feet, 3.75 inches) while Moseman took third place (13.42 meters; 44 feet, 0.50 inches).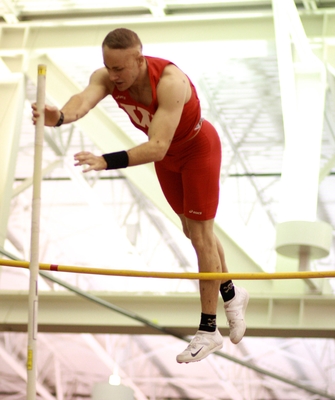 Hildebrand, Smothers, Haley, and Chet Riddle were second in the 800-meter relay with a time of 1:33.06. Jake Waterman, Cole Hruskovich, Justin Allen, and Kevin McCarthy added a second-place finish in the 3200-meter relay (8:07.64).

John Bogoucki and Devin Kelley finished second in the high jump relay. Bogouki took second overall by clearing 1.85 meters (6 feet, 0.75 inches).

Wabash scored a total of 116 points, edging Ohio Wesleyan in second place with 113.5 points. Oberlin took third (71.5 points), followed by Wittenberg (55), Allegheny (48), Wooster (37), Kenyon (25), and Denison (22).




Results: 1st Place/8 teams Game Stats