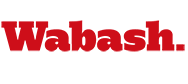 Bailey's Best Gives Wabash a 74-65 Win over Kenyon
by Brent Harris

January 29, 2011

Wabash returned to its winning ways after Wednesday night's setback with a 74-65 victory over Kenyon College Saturday afternoon at Chadwick Court. Wes Smith led the Little Giants with 25 points, while Derek Bailey chipped in a career-best 16 points in the win.

View photos of the Little Giants' victory here and here.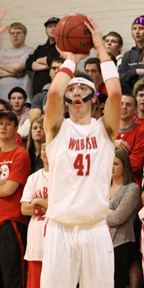 Bailey (right) came off the bench to hit 4-of-5 shot attempts in the first half, lifting the Little Giants to a 13-point halftime advantage. His three-point basket with 7:41 left to play in the opening period was the first shot from beyond the arc that fell for Wabash in the half and gave the Little Giants a six-point lead. Kenyon closed to within two points before Smith hit a jumper and Andrew Gilman added a trey for a 24-18 Wabash lead. The Little Giants stretched the advantage to 14 points on a Pete Nicksic layup before the Lords' 7-0 run in the final two minutes cut the lead to seven at the break.

Smith and Bailey combined for the first 14 Wabash points of the second half, stretching the lead to 50-40. Aaron Zinnmerman hit a driving shot and added three free throws over the next two minutes to push the advantage with 15 points for the Little Giants.

Wabash would hold a double-digit lead throughout much of the second half before the Lords made it a six-point game with less than a minute remaining. Smith and Brian Shelbourne hit three key free throws down the stretch to give the Little Giants their 16th win of the season and an 8-3 mark against North Coast Athletic Conference foes.

Kodey Haddox finished with 17 points on 4-of-15 shooting from the field to lead Kenyon (8-12, 4-7 NCAC) in scoring. Brian Lebowitz and Cameron Bell added 11 points a piece.

Wabash outrebounded the Lords 42-35 overall, thanks in part to a team-best eight boards by Ben Burkett. Shelbourne handed out six of the Little Giants' 11 assists in the game.

The Little Giants, ranked 11th in the latest D3hoops.com poll, improve to 16-3 with the victory. Wabash will return to the road for the final time in the regular season with a Wednesday trip to Denison and a Saturday game at undefeated and number-one ranked Wooster.

Josh Estelle, the Little Giants' all-time leading basketball scorer, was inducted into the Wabash Athletics Hall of Fame at halftime of the game. A four-time First Team All-Conference selection in three different leagues, Estelle finish with 2,065 career points. He led Wabash to a record of 83-26 during his career, the best four-year record in school history. Estelle was a D3hoops.com and Academic All-American in addition to earning NCAC Men's Basketball Player of the Year honors.




Results: Wabash 74, Kenyon 65 Game Stats