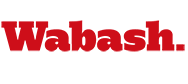 Estelle To Join Hall of Fame Saturday
by Matt Wilson
Crawfordsville Journal Review

January 28, 2011

Walking onto Chadwick Court as an 18-year-old freshman, Josh Estelle never had any long-term goals for his Wabash basketball career.

The New Castle High School graduate thought he had a chance to get some playing time as a freshman, but his main goal was to just have fun playing basketball with some people he already knew — including fellow New Castle graduates Brian Latham and Chad Tabor.

By the time he ended his collegiate career, Estelle had etched his name in the Wabash record books. Estelle surpassed Pete Metzelaars on Wabash's all-time scoring list and remains Wabash's career scoring leader with 2,065 points.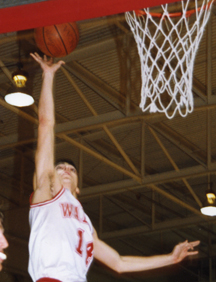 "When you are that young at 18 years old, you don't think of long- term career goals," said Estelle, a 2000 Wabash graduate. "When I was choosing between Hanover and Wabash, Hanover told me that I could be an all-conference player my junior and senior year, and I thought I could be an all-conference player all four years, so I went to Wabash where they were going to give me an opportunity to play.
"I also chose Wabash because I knew some of the guys on the team already and I also looked at academics, which Wabash is great for."
During his freshman year, assistant coach Curt Allen told Estelle he could be the best guard to come through Wabash. Still, the thought of becoming the school's all-time leading scorer didn't cross his mind until his senior year when people started saying, "You know, if he has this kind of a year, then this can happen."
All the collegiate memories started coming back to Estelle as he prepares to be inducted into the Wabash College Athletic Hall of Fame. Estelle, who is 33 and resides in New Castle, will be honored at halftime of Saturday's 3 p.m. game between Wabash and Kenyon.
Estelle was originally scheduled for induction in November 2010, but a family emergency postponed the ceremony.
"It's awesome to be a part of the group," Estelle said. "When you look at how long Wabash has been competing in athletics and look at the list of athletes from all sports across the board, this is something special to be a part of.
"You are going to be in the same group of other guys that were legends when we were back in school. I'm just proud to be a member of the group."
Estelle's class finished with the best four-year record at Wabash, going 83-26. He was a four-time, First Team All-Conference selection in three different leagues. He was a two-time captain who earned D3hoops.com All-America and GTE-CoSIDA Academic All-America honors. Estelle was named the North Coast Athletic Conference Most Valuable Player after averaging 25 points per game his senior season, ranking third best in the country. He set the Wabash record with 105 3-pointers.
The Little Giants also experienced team success during Estelle's four years. His freshman year, Wabash finished 24-5 and won the ICAC Tournament by beating Rose-Hulman 63-62 in the championship game. That gave Wabash an automatic berth into the NCAA Division III Tournament, where it beat Lawrence University 69-63 in the open- ing round before losing to the University of Chicago 78-70 in the championship game.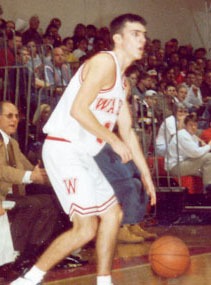 Estelle's sophomore year, Wabash went 22-5 and defended its ICAC Tournament championship by beating Franklin 83-75 in the championship game. Wabash beat Aurora University 87-80 in the opening round of the NCAA Tournament before losing to Chicago 67-62 in the second round.
Wabash graduated eight seniors from that 1997-98 team. Estelle was one of the three leading scorers returning, but Wabash didn't have anyone else with experience. That also was the year the Division III Tournament dropped from 64 to 48 teams, meaning squads almost had to win their conference tournaments to qualify.
The Little Giants went 17-9 Estelle's junior year, losing to Manchester 70-48 in the Heartland Collegiate Athletic Conference Tournament. Estelle's senior year, Wabash went 20-7 and three of those losses came to No. 1 Wooster. The Little Giants lost to the Scots 114-91 in the championship game of the North Coast Athletic Conference Tournament.
"Winning the conference tournament was great, and at the age of 33 when you look back, winning is still important, but you most remember the good times you had with the guys on the team," Estelle said. "Basketball is different because you spend Christmas break on campus, and you really get to know your teammates when you spent four winters in Crawfordsville for 24 hours with them. You also have some fun and good stories to look back on."
Estelle and fellow Wabash alum Brady Claxton currently own Pfenninger Insurance Agency in both New Castle and Shelbyville. Due to scheduling conflicts, he hasn't been able to make it back to Wabash as much as he would have liked. Mac Petty coached Estelle all four years and he also was teammates at Wabash with current Little Giant assistant coach Antoine Carpenter.
Estelle did return to watch Wabash face No. 1 Wooster earlier this year.
"I have only been able to make it back a couple of times the last couple of years," Estelle said. "It's just going to be great going back to see people I haven't seen in a while."
Estelle will play in the Wabash alumni game at 1 p.m. Saturday at Chadwick Court.
"I hope they have some oxygen on the sidelines for us," Estelle said.