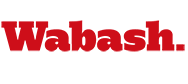 Students Ready for Research, Creative Work Celebration
by Howard Hewitt

January 26, 2011

Wabash students will strut their academic stuff for fellow students, faculty, staff, and others Friday in the annual Celebration of Student Research, Scholarship, and Creative Work.

The unique program is in its 11th year. Students present posters showing research into a variety of topics, along with oral presentations on projects they've worked on in and out of the classroom.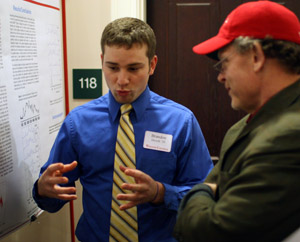 "We celebrate not only the particular achievements of individual students, but also a deeply embedded ethos of the College," Dean of the College Gary Phillips wrote in his welcome. "The liberal arts are about such student intellectual engagement as this as part of a mission to change lives.
"Close collaboration between Wabash students and faculty across the College is a hallmark of our institution, a labor of pedagogy that makes a difference."
Oral Presentations begin at 1:10 p.m. in Detchon Hall and continue every 20 minutes until 4 p.m. The poster presentations also begin at 1:10 p.m. and run about 90 minutes. A second group of poster presenters then take over.
One of the most popular dynamics of the event is the ability to watch oral presentation or view the posters and ask the students questions about their work.
The College deems the Celebration important enough to cancel Friday afternoon classes so all students can attend.
Click here for the full abstract of presentations and student biographies.