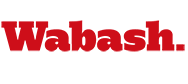 Speaking of Sports: Big Hitter
by Brent Harris

January 11, 2011

T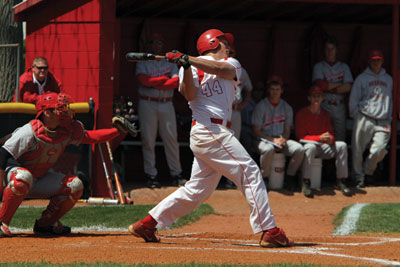 ake a good look at John Holm and you can imagine just how hard a hit the junior tight end puts on the defense.
Or you can just ask North Coast Athletic Conference sideline official Thomas Jones.
Last year Holm accidentally decked Jones as the Little Giant was headed toward the Wabash sideline.
"I actually had no idea what had happened," Holm says. "I got blindsided by a tackler, and when I realized I had hit something
I looked around and there was Mr. Jones. I was so shocked. I was just hoping he was okay."
After a moment to gather his thoughts and have a nasty cut on his head treated, Jones finished the game.
"I thought, Maybe I should just go and hide for the rest of the game," Holm says. "But everything worked out fine. It was good to see him out there again."
Holm and Jones were reunited for the Little Giants' 2010 football opener against Wooster last fall. The two spoke before the contest, but not on the subject you'd expect.
"We talked a lot about baseball before the game," says Holm, who set the Wabash single-season record with 15 home runs last year while also earning First Team All-North Coast Athletic Conference honors as a first baseman. "He coaches a summer baseball league in Ohio and knew I was a member of the Wabash team. He did mention the hit from last year, but just kind of laughed. It was a very positive conversation—even though I knocked him out last year!"
Holm's size and ability have made him key to the Wabash offense, but he credits two former Little Giant tight ends with the teaching he needed to play his position so well.
"During my freshman and sophomore year, I learned so much from Chad Sorenson '10 and Scott Liska '10. They each had different skills and played the position differently. Now I'm in that same role as a junior—teaching a couple of sophomores and freshmen how to play the position."
When Holm hung up his football gear, he grabbed a bat and started practice for the upcoming baseball season. Last year that quick transition led to the 15-home-run outburst.
But for Holm, the season was never about chasing records.
"Numbers and stats don't really mean anything to me. Our goal is always to win the North Coast Athletic Conference tournament. That's what I want, what everyone on our team wants. Everyone has to help the team the best way they can. If that's laying down a sacrifice bunt instead of swinging for the fences, that's what you do.
"You can't plan to hit a home run in every at-bat. You can plan to do the little things that help your team win. That's what Coach Stevens tells us, and we believe it."
Holm saw that attitude exemplified in Matt Dodaro '09. Dodaro holds the Little Giant career home run record with 25 and is arguably one of the best players to don a Wabash baseball uniform. He helped Wabash to its first NCAC Western Division title in 2009 before joining the Little Giants as an assistant in 2010.
"He always did those little things to try and win, and he kept emphasizing that as a coach," Holm says. "I think it helped us get back to the NCAC tournament last year."
Wabash has been a big hit for the Holm family. John's parents, Rob and Joann, either travel to their son's baseball and football games or listen to the radio broadcasts over the Internet. The family will be even closer this season, as younger brother Luke joins John as a member of the Wabash baseball team.
"This will be the first time we have had a chance to play on the same team," John says. "I really didn't talk to Luke about Wabash; I wanted him to make his own decision. But I'm thrilled he's here. Our family already understands what the education and experiences at Wabash can do for both Luke and myself. Even my parents have become a part of Wabash. They understand and love this College."
"John Holm is the pitome of a successful Division III student-athlete," says Head Baseball Coach Cory Stevens. "He excels in the classroom, on the baseball field, and on the football field while serving as a leader on campus. He is proof that student-athlete an successfully balance academics, multiple sports, fraternity life, club involvement, Sphinx Club, and a social life. 
"John is a quiet leader who knows actions carry much more weight than words."
This year, the baseball team will begin practice in February and then head to California for spring break. The return home will be another big hit for John. On the day the Little Giants dedicate their new baseball stadium on March 19, 2011, their home-run-hitting two-sport star will celebrate his 21st birthday.