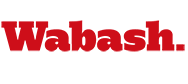 Three Wabash Football Players Named All-Americans
by Brent Harris

December 20, 2010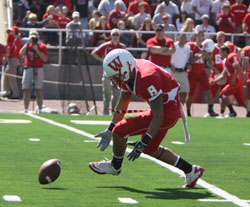 Three members of the 2010 Wabash College football team were named to the D3football.com All-America team. Sophomore Jonathon Koop was a First Team All-America selection, while senior CJ Gum received Third All-America honors. Sophomore Weston Kitley was named to the Honorable Mention All-America team.
Koop (right), a sophomore defensive back, was recognized for his play on special teams. A graduate of AB Miller High School in Fontana, California, Koop scored four touchdowns off of blocked punts by the Wabash special teams unit to set a new school record for punt return touchdowns in a season. He was one away from tying the NCAA Division III record of five punt return touchdowns in a single season. Koop was part of a Wabash special teams unit that tied the NCAA Division III single season mark for blocked kicks with 11.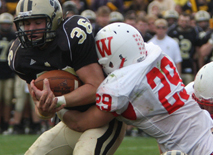 Gum, the 2010 North Coast Athletic Conference Defensive Player of the Year, First Team All-NCAC and First Team All-North Region D3football.com selection, led the Little Giants with 75 tackles, with 38 solo stops and 37 assists in ten starts at linebacker. He tied for the conference lead with four interceptions. His 75 tackles tied for eighth-best in the league. Gum (left), a North Judson High School graduate, also tied for the team lead with 8-1/2 tackles for losses totaling 25 yards. He recorded two sacks for eight yards, and finished with four pass breakups and three quarterback hurries.

Kitley a sophomore offensive lineman from Indianapolis Roncalli High School, earned All-America honors in his first season as a starter for the Little Giants. Kitley, a First Team All-NCAC selection, started all 10 games at left tackle for Wabash and helped the offense to second in the NCAC in rushing offense (152.8 ypg), passing offense (245.1 ypg), total offense (397.90 ypg), and scoring offense (33.8 ppg). Kitley and the rest of his offensive line mates allowed an average of two sacks per game to rank fourth in the conference.

Wabash finished the regular season with a record of 8-2 overall and 5-1 in the North Coast Athletic Conference. The Little Giants closed out the 2010 season with a 47-0 victory over DePauw University in the annual Monon Bell Classic. Wabash received 28 total points in the final D3football.com Top-25 poll of the season.




For more information see: