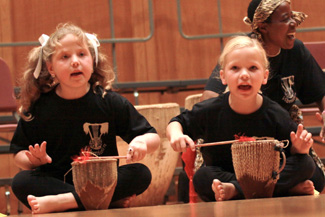 The Wamidan Children's Ensemble will present its inaugural solo concert on the Salter Hall stage Sunday afternoon at 4 p.m. as the group performs "A Christmas Spiderweb," a selection of original, traditional, and African holiday songs.
"This year Wamidan extended our reach and recruited children," said Wabash Professor James Makubuya, artistic director of the College's Wamidan World Music Ensemble, which performs concerts at Wabash and across the Midwest. "These children are the future of our community, and the Wamidan Children's Ensemble helps them discover their talents."
The group of grade-schoolers and pre-schoolers is directed by Sister Stella Sabina, who wrote many of the songs for Sunday's performance.
"We don't take a Hollywood approach to our recruiting—there is no audition process. We believe each child is talented and beautiful and deserves an opportunity to bring the best out of himself or herself," said Sister Stella. "Whoever commits to weekly practices and accepts what it takes to work as a team is allowed to be a member."
The Tuula Ensemble—a group of Crawfordsville singers and instrumentalists comprising Professor Makubuya, Professor Dan Rogers, Jill Rogers, Trey and Lanie Rogers, Jim Swift, Betsy Swift, Sister Stella, and Steve Charles—will accompany the children. The afternoon fare will include not only the original songs performed by the Wamidan Children's Ensemble, but also traditional carols and an opportunity for the audience to join in and sing along.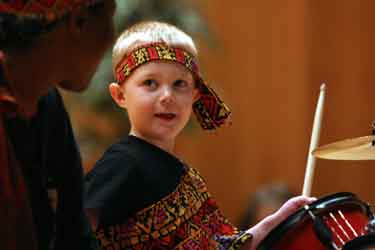 The theme of the program is "the connectedness of all people, one to another," said Sister Stella, noting that while the children have appeared with the Wamidan World Music Ensemble and at a recent event to raise funds for a community in Kenya, Sunday's concert will be its first solo effort.
"Our performers have learned that all human beings are connected like a spider web and therefore should live as one family," she said. "After the program, they will share what they have with a family in need through the Youth Service Bureau.
"The children have worked hard, and I hope the community will come out and support them."
The event at Salter Hall in the College's Fine Arts Building is free and open to the public.