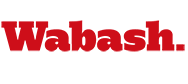 300-Plus Students Enjoy Midnight Munch
by Brent Harris

December 15, 2010

The traditional Midnight Munch during final exams week at Wabash College took place Tuesday night. A total of 374 students braved the frigid weather to take a study break and enjoy good food and camaraderie while faculty, staff — and Wabash College President Pat White — provided food and conversation.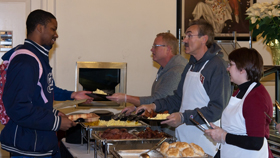 Students started packing the Sparks Center well before the 11 p.m. start time, waiting for a chance to enjoy free eggs, sausage, bacon, biscuits and gravy, fruit, and pastries provided by the College and the Bon Appetit food service. The event lasted until 12:30 a.m. when the last group of students cleaned their plates before trudging back to their rooms or the Lilly Library to prepare for the next set of final exams.
A special "thank you" to all of the students who came out to participate in Midnight Munch, the faculty and staff who volunteered to work the event, and to Bon Appetit staff and management for all of the preparation to make the event a success.
View photos from the event here.
Watch video from the 2010 Midnight Munch: