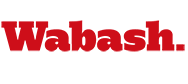 Trio Takes Little State Wrestling Titles
by Brent Harris

December 4, 2010

Wabash wrestlers Jake Strausbaugh, Jake Moore, and Josh Boyer each claimed titles at the 51st Little State Wrestling Tournament. Moore won the , Boyer took the 125-pound title, while Strausbaugh was the 149-pound champion in addition to winning the Most Outstanding Wrestler of the tournament for the second consecutive year.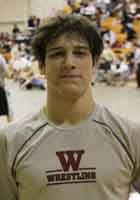 Strausbaugh entered the tournament as the top seed at 149 pounds after winning last year's title. He started with a pin 1:25 into his first match against Nick Odom from Trine, then posted a major decision against Trevor Maus from North Central. A 10-4 decision over fourth-seeded Steven Sandefer from the University of Indianapolis sent Strausbaugh to the championship bout, where he scored a 7-3 decision over second-seeded Cam Brady from Manchester for the title.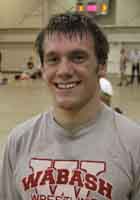 Moore also earned the top seed at 165 pounds, and proved his ranking with a huge 22-11 win in the opening round of the tournament. He followed with a 4-2 win over North Central's Andrew Hiller, then scored an 11-7 victory against fourth-seeded Adam Harris from Muskingum. The championship bout went to two tiebreakers before Moore would eventual score a 7-3 win overa second-seeded Jeff Weiss from the University of Indianapolis.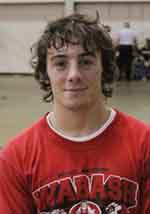 Boyer, the number-three seed at 125 pounds, opened with a 5-0 victory over Daniel Maves from Trine University. A 7-3 victory over sixth-seeded PJ Martinez from Cumberland moved Boyer into the semifinals. He defeated two-seed Brandon Harvey from Trine 9-5 in the semis, and then knocked off fourth-seeded Anthony Hawkins from Calumet College - St. Joseph's in the finals by a score of 3-1 to take the title.
Teammate Marc Escobedo took fifth place at 125 pounds. Escobedo scored a pin in his first match before losing 4-3 to Hawkins in round two. Escobedo rallied for a pin against Maves at the 1:58 mark of their consolation bout, followed by a 3-1 decision over Brock Sempsrott from the University of Indianapolis. He lost 3-2 to Harvey in the consolation semifinals, but won 4-0 in the finals against top-seeded Larone Madison of Cumberland.
Greg Rhoads took second place at 184 pounds, losing by one point in the finals to top-seeded Billy Malone from North Central. Rhoads, the second seed in the bracket, started with an 11-3 win over Cruz Dyson from Manchester. A 15-4 win over seventh-seeded Reid Dickerson from Wisconsin-Whitewater moved him to the semifinals where Rhoads took a 3-1 victory over sixth-seeded Cody Wittkamp from the University of Indianapolis.
Garrett Payne finished third at 141 pounds. He started with a 10-2 win in his first bout, but lost 7-3 to third-seed Forrest Romer from Trine in round two. Payne then posted four consecutive wins in the consolation bracket, including a 10-8 victory over Romer in the finals to take third place.
Robert Beeler took fifth place at 174 pounds. Unseeded entering the tournament, Beeler lost his opening match against Drew Graber 8-3, but followed with three key victories, including a 3-1 decision over eighth-seeded Jake Hyde. A 7-3 loss to second-seeded Greg Schroeder from North Central sent Beeler to the fifth-place title match, where he defeated seventh-seeded Ryan Monce from Manchester College 6-5.
Graham Youngs and Jimmy LaRowe finished sixth and eighth, respectively, in the 157-pound bracket. Youngs dropped his first bout of the tournament before scoring two straight wins to advance to the consolation semifinals Two more losses put him in sixth place overall. LaRowe started with a victory by pin over Blake Freidt from Muskingum before losing 13-5 to the second-seed, Elias Larson from Trine. A consolation loss and an injury forced LaRowe to forfeit his final bout to end up in eighth place.
Martin Lantz was seventh at 197 pounds. He lost his first bout to second-seeded Alex Fleet from Trine, but went 2-1 in the consolation bracket including a 3-0 win over Matt Kulbida from Trine in the finals.
Wabash will compete at the North Central Invitational next Saturday.
Game Stats