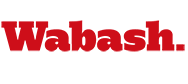 Sutherlin Comes Home
by Kyle Bender '12
The Bachelor

December 3, 2010

Coming out of high school, junior AJ Sutherlin knew he wanted to find a college with good academics and a solid basketball program. However, the former North Montgomery High School standout also wanted to get out and explore opportunities away from home. He never really considered nearby Wabash during his college search.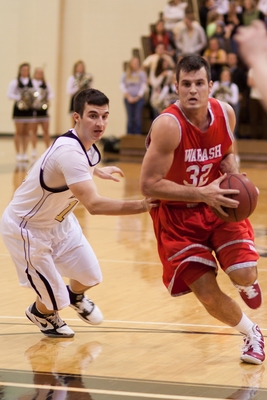 More than two years later, after time spent at Elmhurst College in Chicago and Earlham College in Richmond, Ind., Sutherlin is once again a full-time Montgomery County resident and a new member of the Wabash basketball team.
"I made the choice this summer to transfer to Wabash for several reasons," Sutherlin said. "I knew I would have the opportunity to play for a great basketball program while getting one of the best educations around but I also wanted to be closer to home and my family."
The decision gave Wabash a 6'5'' forward with significant amounts of college basketball experience to the team's already deep roster.
Last season for Earlham, Sutherlin's 16.8 points per game scoring average trailed only new teammate Wes Smith in the North Coast Athletic Conference lead.
Unlike NCAA Division I programs where transfers are required to refrain from athletic competition for one calendar year, Division III athletics have no such sanction. Once Sutherlin made the decision to attend Wabash, he was instantly eligible to compete for the Little Giants.
This dilemma recently produced an interesting floor dynamic when Wabash hosted Earlham as part of their Little Giant Tip-Off Classic in early November. In the Little Giant's 73-58 victory, Sutherlin contributed 10 points against his former Quaker teammates.
"I expected it to just be another normal game, but when I came in the game I saw that I knew everyone on the court," Sutherlin said. "It was a little different because that's never really happened before in my career but it was still a lot of fun."
Through the first six games of the season, Sutherlin has contributed almost seven points and three rebounds per game while averaging 16 minutes of play per game off the bench.
Perhaps most impressive is Sutherlin has yet to return to full strength from a surgery he had this summer. He continues to rehab the surgically repaired knee with one of Dr. K. Donald Shelbourne's strength programs.
"It's always a challenge to come back from an injury," he said. "Everyone has been great about helping me out. I still can't do a lot of things mobility wise, so right now the coaches just want me to shoot the ball – which is one of my favorite things to do so I can't complain! It's great to have such a deep roster on this team because I'm able to have a different role than what I'm used to in the past. I can come off the bench and just try to contribute as needed."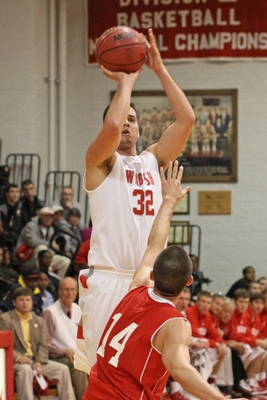 Sutherlin's efforts have not gone unnoticed by his new coaches and teammates.
"AJ came in and worked extremely hard this preseason and the guys accepted and welcomed him," Coach Mac Petty said. "He's a great player but his good attitude is what has really helped the transition because he's a good person and really wants to be a part of this team."
Senior Ben Burkett echoed Petty's praise of Sutherlin – "It is difficult for anyone to come into a new program as a transfer, let alone a junior fresh off knee surgery, but AJ has made the transition seamlessly. He fit right in with everybody on the team both on and off the floor. He brings a great shooting ability and high basketball IQ to the team. Knowing AJ for many years always made it fun for me to play college basketball against him, but I've quickly realized it's much better to have him on my team."
As the Little Giants begin their NCAC conference slate this weekend with a trip to Hiram, Sutherlin and his teammates are excited to continue their impressive start.
"This team has been successful early because of the great team chemistry we've developed," Sutherlin said. "I've never been on a team that's came together so quickly. Everyone is helping each other out and learning from one another. It should be a great year for Wabash basketball."