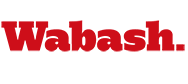 Alchemist with a Dobro
by Steve Charles

December 3, 2010

Professional driver and dobro player Ben "Kitt" Kitterman '06 has toured the United States and the world with indie singer/songwriter Ben Kweller, whom he met while at Wabash. Kitt's musicianship not only is a highlight of Kweller's seminal CD Changing Horses, but also inspired its content.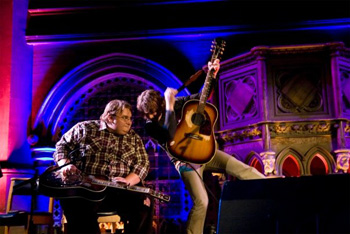 In December 2008, the BBC2's Dermot O'Leary invited Kweller and Kitterman to their studios in London to talk about the new CD, but the conversation quickly turned to the dobro and Kitterman's extraordinary talent:|
BBC: I'm fascinated by Kitt. This guy is like an alchemist with this [dobro]. Is this something you've played since childhood?
Kitt: No. I played cello for probably 11 years. My mom drove me to play cello; she's an orchestra conductor, so I had to do that. And I hated it. Quit. Didn't play anything for a couple months. Then randomly decided I wanted to play dobro and pedal steel guitar, which are, like, two of the toughest, most random things you can learn. And I've been doing it six, maybe seven years.
BBC: It sounds beautiful.
Kitt: I appreciate that.
BBC: And how did you guys meet?
Ben: I was doing a concert at Wabash College in Indiana, opening for Ben Folds, and Kitt picked me up at the airport, because he was basically running the show. And we just became friends from that night on.
I had another gig in Indiana the next week, and I called him and said, "Hey, wanna come up for the gig, and just hang out?" And we became really tight.
I'll bet a month went by before I realized he was a musician. He just never mentioned it. And one night we were at my old apartment in Brooklyn…[CC2]he got [the dobro] out of the case, I started playing a new song, and the second I heard what he could do, I was just beside myself. I knew he had to be on the album.
BBC: Kitt, how do you feel about of all this?
Kitt: I'm flattered.
Kweller: It's actually hard to get him out of the driver's seat. He's a professional driver, drives tour buses.
Kitt: That's my real passion.
BBC: Really?
Kitt: Yeah.
BBC: So the guitar is, like, your pastime, and driving is, like, your passion?
Kitt: You nailed it, buddy.
Kweller: Basically, I book tours and if he feels in the mood, he'll call me last minute and say, hey, I'll come along. (Kitt laughs)
BBC: So what's the best tour bus out there?
Kitt: What an excellent question. Neil Young's bus is the best bus in the entire world.
BBC: How come?
Kitt: It's a piece of art.
BBC: How fast can it go?
Kitt: I think my dad got it up to 96 miles an hour.
BBC: So you're saying this runs in the family?
Kweller: His whole family—like back to the guy who drove the wagon…
Kitt: My grandfather was a milk wagon driver.
BBC: Seriously? This is great!
(Ben and Kitt play Neil Young's "From Hank to Hendrix" from Kweller's new album.)
BBC: That's beautiful. Kitt, you've got to give up driving—or at least play guitar full time.
In photo: Kitterman and Kweller play a concert in the UK in 2008.
Editor's Note: Ben Kitterman continues to drive buses for musicians on tour while accompanying Ben Kweller at selected concerts. "I feel the greatest peace driving the bus and playing dobro, so this is the best of both worlds," Ben says. "And as a driver, I always know where my next gig is going to be. As a full-time musician, I know that's not always the case."
This article originally published in WM Spring 2009.