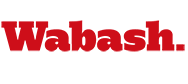 13th-ranked Wabash Faces Key Test
by Brent Harris

November 30, 2010

The Wabash basketball team leapt into the national poll after Saturday's 60-45 win over Randolph-Macon. The Little Giants, undefeated at 6-0 and ranked 13th in the week one D3hoops.com poll, will face an unbeaten DePauw University team Wednesday night in Greencastle.

Wabash is 6-0 to start the season for the first time since the 1922-23 accomplished the same feat. The Little Giants have played five of those games at home, with their only road trip ending in a 68-55 Wabash victory. Last weekend the Little Giants opened the Pete Thorn Tournament with a 71-54 win over Otterbein University before upsetting the number-two ranked Randolph-Macon team in the championship game.

Wes Smith (left) has dominated the scoring for the Wabash team through the first six games. Smith has earned the North Coast Athletic Conference Men's Basketball Player of the Week Award each of the first two weeks of the season and is averaging 25.8 points and 5.8 rebounds a game. He has connected on 62-of-104 shots for a .596 shooting percentage while averaging 31.7 minutes of court time a game. Smith scored a season-high 34 points against Otterbein and followed with 27 versus the Yellow Jackets on Saturday. He has led Wabash in scoring in each of the first six games.
"Wes' play has been outstanding," Head Coach Mac Petty said. "I've always believed a player gets those opportunities to score because of the players around him. I think the players we have this season really compliment the skills and abilities Wes has. The other players know what Wes can do, and he knows if the defense has taken something away from him that someone else will step up to make a play."
Smith has hardly been a one-man show. Wabash has one of its deepest teams in recent history, with ten players seeing significant court time to this point in the season. Junior Aaron Zinnerman is averaging 7.7 points a game, including two 13-point efforts this year against Earlham and Randolph-Macon. Junior transfer AJ Sutherlin is scoring 6.5 points a game coming off the bench, providing additional outside offensive firepower to compliment Smith and Zinnerman's attack.
Freshman Pete Nicksic has made the transition from high school play at Andrean to the college game very quickly. The rookie forward is averaging 6.3 points and 18 minutes a game.

Starting guard Brian Shelbourne (right) has run the offense throughout most of his career at Wabash, and continues to do so this season. The junior is averaging four assists a contest, but has added 5.7 points a game, as well. Senior Ben Burkett is scoring at a 5.5 points-per-game clip and averages 5.2 rebounds a contest. Junior starter Nick Curosh is second on the team in rebounding at 5.7 boards a game and is scoring 3.3 points a contest.
Derek Bailey, Dominique Thomas, and Wes Zimmerman have provided valuable minutes coming off the bench. Bailey is averaging five points a game, while Thomas has hit 7-of-14 shots from the field with 5-of-7 coming from beyond the three-point arc. Zimmerman has scored a total 12 points and dished out four assists while averaging eight minutes a contest.
The Little Giants will face undefeated DePauw, 4-0 on the season after winning the Mike Rokicki Community Versus Cancer Challenge last weekend. The Tigers defeated Rockford College 97-79 in the first game Saturday, then handed Ohio Wesleyan University a 62-49 defeat in the title game.
Wabash and DePauw have two early season common opponents. Both schools played in the Little Giant Tipoff Tournament November 19-20. The Tigers beat Franklin 64-58, followed by a 67-51 victory over Earlham. Wabash opened with a 73-58 win against Earlham before scoring a decisive 96-55 win against Franklin.
Sharpshooting junior guard Sean Haseley leads DePauw in scoring, averaging 17.8 points a game. Haseley has hit 20-of-37 shot attempts and is 14-of-30 from three-point range. Senior center Joe Bergfeld is scoring 17 points and averaging seven rebounds through the first four games of the season. Ryan Sever, a senior swingman, is also averaging double figures in scoring at 11.3 points per game. Senior Drew Wills is chipping in 9.3 points a contest.
"Being nationally ranked is an outstanding compliment given to this team," Petty said. "It shows that people outside the program understand how well they are playing and recognizes what we've accomplished as a team to this point in the season.
"I like having a bulls-eye on my back. I've always loved the saying 'To whom much is given much is expected.' We've been given this national ranking. Now we are expected to live up to that ranking. That starts tonight against DePauw."
Tipoff at the Neal Fieldhouse is set for 7:30 p.m. Wednesday evening. The Little Giants will begin NCAC action this weekend with a 1 p.m. game Saturday at Hiram College in Ohio.