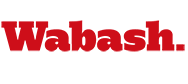 Wabash KO's #2 Randolph-Macon
by Brent Harris

November 27, 2010

Wabash rode a 20-1 scoring run at the end of the first half and start of the second in a dominating 60-45 victory in the championship game of the Pete Thorn Tournament over second-ranked Randolph-Macon College Saturday afternoon.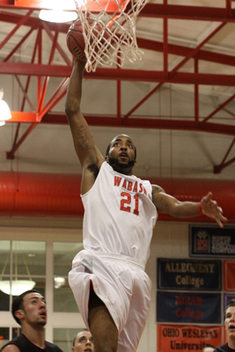 The Yellow Jackets, ranked second behind Wisconsin-Stevens Point in preseason D3hoops.com Top-25 poll, had no answer for tournament MVP Wes Smith. The Wabash senior guard poured in a game-high 27 points one night after scoring 34 against Otterbein in the opening round of the tournament. Smith (left) shot 11-of-20 from the field and just missed a double-double by grabbing nine rebounds.
Wabash improved to 6-0 with the victory, the first time since the 1922-23 season the Little Giants have started a season with six consecutive wins.
Both teams battled early with Randolph-Macon taking a six-point lead midway through the first period on a jumper by all-tournament selection Eric Pugh. Dominique Thomas' three-pointer trimmed the lead to three points, and another jumper by the senior guard made it a one-point game with 7:36 left to play in the first half. A layup by Billy Camion stretched the Yellow Jackets' advantage to three before AJ Sutherlin tied the game with a three-point shot.
The two teams traded baskets, tying the score at 26-26 with 4:15 remaining in the opening period. That's when Wabash pitched a shutout defensively, holding Randolph-Macon scoreless for the rest of the first half. Smith gave Wabash a 28-26 lead with two free throws before Aaron Zinnerman added two free throws and jumper to push the Little Giants' lead to six. Smith added another basket in the final minute, then Sutherlin grabbed an offensive rebound off a Wabash miss and hit a put-back six-foot jump shot just before the horn to put the Little Giants up by 10.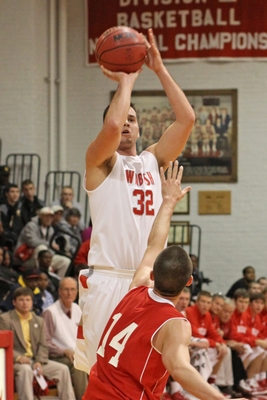 Three quick fouls added two free throws to a Brian Shelbourne jumper in the lane, extending the lead to 14 points. Randolph-Macon (4-1) scored its only point in the first six minutes of the second half when Brandon Braxton connected on one of two free throws. Meanwhile, Wabash continued to score, with Smith accounting for seven of the Little Giants' 10 points in the opening minutes of the final period.

Wabash would eventually open up a 23-point lead with six minutes left before settling for 15-point victory.

Zinnerman joined Smith and Pugh on the all-tournament team. The junior guard tied a season- and career-high with 13 points. Sutherlin (right) added eight points. The interior defense of Nick Curosh, Ben Burkett, and Pete Nicksic held the Yellow Jackets' 6-9 center, Brandon Braxton, to 10 points. Wabash outrebounded Randolph-Macon 41-31 and grabbed 15 offensive boards that led to 15 second-chance points. Braxton was also an all-tournament team selection.

The Little Giants return to action Wednesday with a road game at DePauw University at 7:30 p.m.




Results: Wabash 60, #2 Randolph-Macon 45 Game Stats