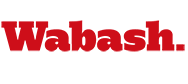 Gum Named NCAC Defensive Player of the Year
by Brent Harris

November 22, 2010

CJ Gum has been named the 2010 North Coast Athletic Conference Hank Critchfield Award winner as the league's Defensive Player of the Year. Gum is one of 11 Little Giants to earn all-conference honors from the league.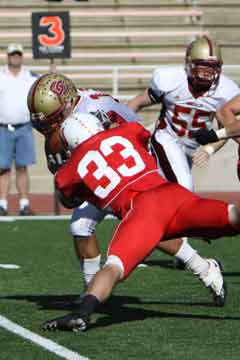 Gum, a senior from North Judson High School, led the Little Giants with 75 tackles, with 38 solo stops and 37 assists in ten starts at linebacker to earn First Team All-NCAC honors in addition to the Defensive Player of the Year Award. He tied for the NCAC lead with four interceptions. His 75 tackles tied for eighth-best in the league. Gum
(right)
also tied for the team lead with 8-1/2 tackles for losses totaling 25 yards. He recorded two sacks for eight yards, and finished with four pass breakups and three quarterback hurries. Gum was a Second Team All-NCAC selection in 2009.
Gum joins previous Wabash players Darryl Kennon '10 (2008), Adrian Pynenberg '08 (2006 and 2007), Blair Hammer '04 (2003), and Nate Boulais '03 (2002) as Hank Critchfield Award recipients.
Weston Kitley, a sophomore offensive lineman from Indianapolis Roncalli High School, earned First Team honors in his first season as a starter for the Little Giants. Kitley (#61 in the photo below left) started all 10 games at left tackle for Wabash, helping the offense to second in the NCAC in rushing offense (152.8 ypg), passing offense (245.1 ypg), total offense (397.90 ypg), and scoring offense (33.8 ppg). Kitley and the rest of his offensive line mates allowed an average of two sacks per game to rank fourth in the conference.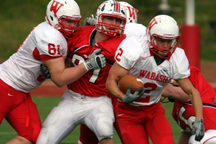 Senior Spencer Whitehead, a product of Bloomington South High School, earned First Team All-NCAC honors — his first all-conference selection. Whitehead was second in the league overall and first among kickers in scoring with 70 total points, hitting 11-of 14 field goals and 37-of-40 extra points. He set a new personal best with a 43-yard field goal in his final collegiate game against DePauw in the annual Monon Bell Classic. Whitehead's 11 field goals tied for the third-most in a season for the Little Giants. Whitehead
(below left)
ended his career with 117 extra points, tying Wabash Athletics Hall of Famer Joe Bevelhimer '86 for the all-time school record. He also finished fifth in Wabash history with 19 field goals.
Junior wide receiver Jonathan Horn was one of five Little Giant players to earn Second Team All-NCAC honors. Horn, a Cathedral High School graduate, led Wabash in receiving with 59 receptions for 1,012 yards and eight TDs. He ranked third in the conference and 27th in the nation in receiving yards per game (101.2) and was fifth in receptions per game (5.9), His 1,012 receiving yards are the sixth-most in a season for Wabash.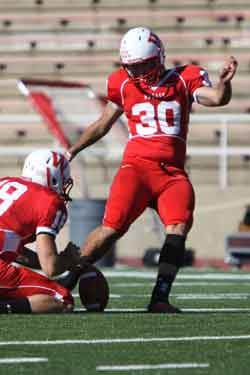 Joining Horn on the All-NCAC Second Team was offensive lineman Jake Shaffer. A junior from Terre Haute North High School, Shaffer started all 10 games at right tackle for Wabash to earn all-conference honors for the first time in his career.

JD McClintic was also named to the All-NCAC Second Team. A senior defensive lineman from Twin Lakes High School, McClintic played in all 10 games with nine starts for Wabash. He recorded 32 tackles and tied for the team lead with 8-1/2 tackles for losses totaling 30 yards. McClintic led Wabash with four sacks for 15 yards. He also broke up six passes, had five quarterback hurries, recovered a fumble at Denison, and blocked a kick versus Washington-St. Louis.

Jake Martin and Sam Smith were Second Team All-NCAC selections as defensive backs. Martin, a senior from Fieldcrest High School in Toluca, Illinois, started all 10 games at safety for the Little Giants. He finished the season with 55 tackles, the third-most among Wabash players. His two interceptions tied for the second-most on the team. He returned an interception 18 yards for a touchdown against Denison.

Smith, a junior from Bloomington (Illinois) Normal High School, was second on the team in tackles with 61 in his 10 starts at safety for Wabash. He also had two interceptions, while his eight breakups were the most by a Little Giant this year. Smith led Wabash with four blocked kicks, tying for the school's single season record and helping the Little Giants tie the NCAA Division III single season mark for blocked kicks with 11.

Seniors Jake Kolisek, Deonte Singfield, and Dan Ryan Wood each were named to the Honorable Mention All-NCAC team. Kolisek started nine games on the defensive line for Wabash, recording 37 tackles, seven tackles for losses totaling 26 yards, and 3-1/2 sacks for 20 yards. A graduate of Roncalli High School, Kolisek also had four pass breakups and three quarterback hurries for the season.

Singfield, a linebacker from Lawrence North High School in Indianapolis, was fourth on the team in tackles with 53. He made 6-1/2 tackles for losses totaling 16 yards, and recorded an interception against Allegheny. He also recovered a fumble against Kenyon and added three pass breakups and two quarterback hurries to his season totals.

Wood earned Honorable Mention All-NCAC honors as both a linebacker and a return specialist. On defense, the senior from St. Laurence High School in Illinois made 43 tackles in nine games despite only earning two starts to finish fifth among Wabash players. He also had three pass breakups, three quarterback hurries, a forced fumble, and a tackle for a loss of two yards. He led the NCAC and was 11th in the nation in kickoff returns, averaging 28.69 yards per attempt, including an 88-yard return for a touchdown against Oberlin. Wood averaged nine yards per punt return, good for second in the NCAC overall.




For more information see: